Historical Eras: Military
Military in the Mojave
In 1850, southwestern territory was annexed by the U.S. Army, the beginning of military encroachment on the region. New transportation routes were critical to an expanding nation, and a wagon trail was opened. In 1858, the first wagon train en route to California was attacked when it lingered at the Colorado River crossing near present-day Needles. Indian fighters were sent to the area from San Francisco. Though there was no combat and the Mohave claimed no responsibility for the wagon attack, prominent tribe members were jailed and the army established Ft. Mojave at the crossing. When several Mohaves escaped from prison, soldiers hunted them and others, eventually banishing the tribe from its homelands near the river crossing.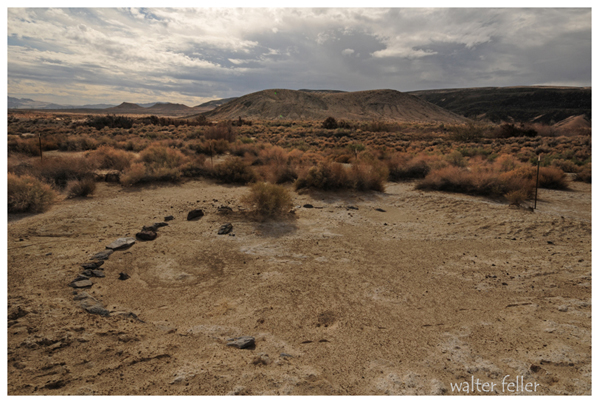 Remains of 19th century military redoubt at Bitter Springs (Fort Irwin)

The Southern Paiute were blamed for several murders in the Mojave River area. They were harrassing travelers and stealing livestock. To thwart this practice and provide safe passage, the military established redoubts along the Mojave Trail. After a short campaign led by General Carleton, peace was restored. The attacks and harrassment began again after the redoubts were abandoned and troops were sent east to participate in the Civil War.

In 1865, the U.S. Government created the Colorado River Indian Reservation near Parker, Arizona, an area of poor farmland. Favoring peace, the new Mohave chief guided hundreds to the reservation, while the former chief remained to lead those who refused to leave their homeland; the tribe was effectively split into two. A compulsory education law for Indians was passed, partly to eradicate native language and culture. The Mohaves were taught American farming methods, though they had no railroads for work, others labored on riverboats, and some sold crafts to tourists. During this same period the remaining Chemehuevi were forced onto reservations in California.


<< Previous - Next >>


Contents & Introduction
Camps, Forts & Redoubts
Fremont, John Charles
Beale, Edward Fitzgerald
Carleton, James Henry
Carson, Christopher "Kit"
Hoffman, William
Sitgreaves, Lorenzo
Whipple, Amiel Weeks