Desert Habitats
Joshua Tree Woodland
Joshua Trees tell you are truly in Mojave country. Though can grow 50 feet tall, they are not really trees but a species of yucca. They prefer flat or gradually sloping areas. The world's largest concentration of Joshua trees grows on Cima Dome in the Mojave National Preserve.

Compare them with other yuccas that typically grow nearby. Banana yuccas, for instance, grow up to 5 feet tall and have long blue-green, curved spines. Mojave yuccas can reach 20 feet in height and branch above ground level.

One of the Mojave's many lizard species, the desert night lizard, lives in decaying plant matter such as downed Joshua trees. Despite its name, this tiny lizard is diurnal but may be active after nightfall hunting termites.

Insects, often attracted by flowers of the Mojave mound cactus and threadleaf groundsel, become food for birds. Joshua tree woodlands support species such as Scott's oriole and the American kestrel, a bird of prey.


Also see:

Ripley Desert Woodland State Park
Photo tour of the Arthur Ripley Desert Juniper/Joshua Tree Woodland. ... Today, only remnant parcels of this majestic woodland community remain in the ...

Saddleback Butte State Park - Palmdale/Lancaster California
The state park surrounding Saddleback Butte was created in 1960 to protect the butte and examples of native Joshua Tree woodlands and other plants and ...

Darwin Falls Wilderness
Vegetation is typical of a creosote bush scrub community with Joshua tree woodland at higher elevations. Wildlife species include nesting and foraging ...

North Mesquite Wilderness
Joshua tree woodlands, yucca, cactus, blackbrush and grasses grow within the region, providing habitat for desert wildlife. ...

Natural Science: Joshua Tree
Joshua tree woodland habitat William Lewis Manly referred to Joshua trees as "cabbage trees" in his book about the rescue of the Bennett and Arcane families ...

Desert Tortoise - Desert Wildlife
Joshua Tree Woodland; Saddleback Butte State Park One special highlight of the park is the Desert Tortoise, which may be seen . ...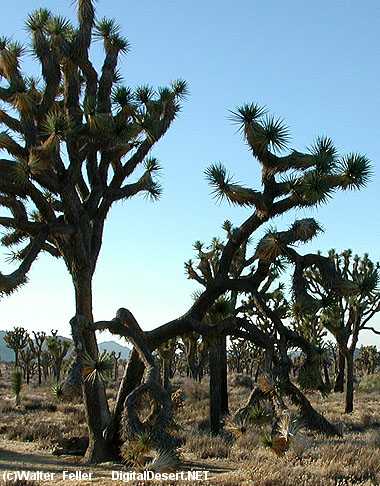 Joshua tree woodland - Joshua Tree National Park