Cactus in the Mojave Desert
Mojave Mound Cactus
Echinocereeus triglochiderus var. mojavensis

Grows in clumps of numerous stems, usually about 2-3 feet in diameter. 8-13 ribs on stems have areoles with spine clusters. Red spines occur on top of stems as new growth. Spines are heavily intertwined and overlapping. Many-petaled scarlet flower blooms on side of stem.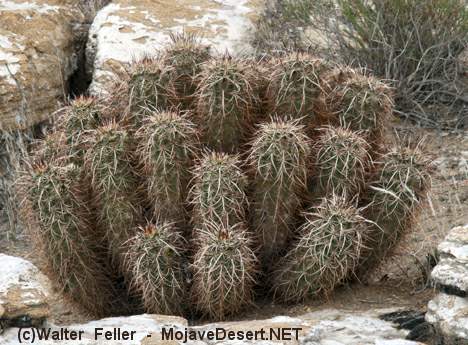 Plants in Death Valley
Hedgehog Cactus. Engelmann Hedgehog Cactus Echinocereus engelmannii. Mojave Mound Cactus Echinocereus triglochidiatus var. mojavensis ...

Rodents - Death Valley Wildlife
Endemic to Mojave desert; low to mid-elevations; mainly solitary; burrow lacks mound of excavated dirt; hibernates more than half a year. A threatened species ...