Ecology & the Environment
Desert Habitats
Pinyon-Juniper Woodland
At higher elevations, particularly on north-facing slopes pinyon and juniper trees cling to ...
Joshua Tree Woodland
Joshua Trees tell you are truly in Mojave country. Though can grow 50 feet tall, they are ...
Cactus Yucca Scrub
Cactus, or mixed desert scrub includes the popular notion of "desert." ...
Desert Dunes
Prevailing winds carry sands from dry lakes and other areas in the sinks and washes to form sand dunes ...
Creosote Bush Scrub
Strong-scented creosote bush and bursage dominate much of the Mojave. Low-lying expanses are covered by ...
Desert Wash
Washes generally flow intermittantly after heavy rains, a feast or famine of water that creates specific ...
Desert Riparian
Desert Riparian habitats are characterized as dense groves of low, shrublike trees or tall shrubs ...
Fan Palm Oases
All natural or naturalized plant assemblages that include California fan palms are recognized as ...
Salt Marsh Plant Communities
Alkali Marsh Plant Community

Desert Sink Scrub Plant Community

Saltbrush Scrub Plant Community

Rippled sand dunes sing an eerie chorus. Cactus flowers bloom after a spring rain, jewels against buff-colored earth. Saltbush borders a dry lakebed, and countless Joshua tree limbs reach toward the sky as if in prayer. Mojave is all of these scenes and more -- a bounty for the senses.

Summer temperatures often exceed 100 F; yearly rainfall ranges four to 14 inches. Mountains, cinder cones, lava beds, sand dunes and dry lakes attest to the geological forces at work through the ages.

Many variables -- elevation, moisture, soil composition, exposure to the sun and shelter from the wind create habitats for plants and animals. Habitats of course, do not have hard boundaries and often overlap. Different habitats may be encountered within a short distance of each other.
Ecosystems and Habitats
More specific information about the desert habitats described and includes mountain habitats.

Shrub Dominated Habitats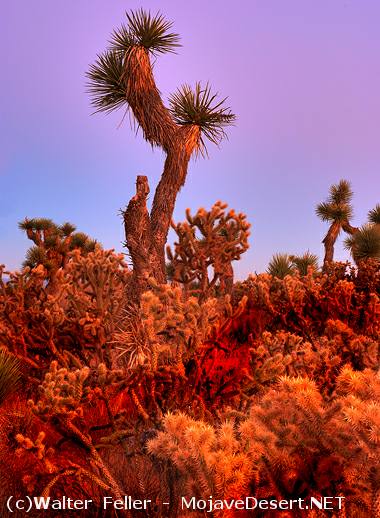 A somewhat heavy-handed example of a cactus-yucca scrub habitat along the desert foothill slopes of the San Gabriel Mountains in Phelan at evening twilight.