Railroads:
Union Pacific Railroad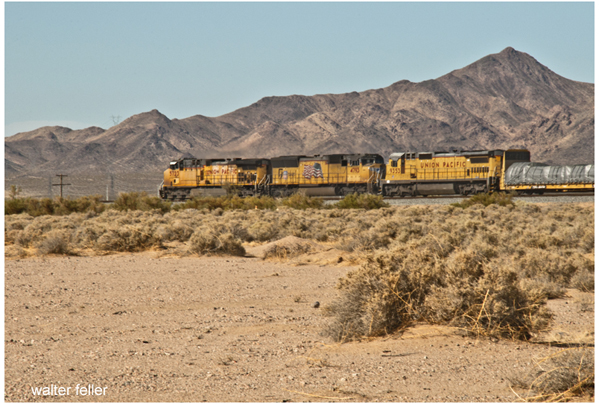 Roach Lake, Jean, Nv.

At the turn of the century, Montana copper-king and senator, William A. Clark, incorporated the San Pedro, Los Angeles & Salt Lake Railroad, intending to connect the Los Angeles port of San Pedro, California with Salt Lake City, Utah. The Oregon Short Line, a subsidiary of E. H. Harriman's Union Pacific Railroad, also intended to develop a Salt Lake-Los Angeles route. After a frantic track-building race, Clark and Harriman resolved their differences and in 1903 signed an agreement on joint ownership of the Salt Lake route. The tracks reached the site of Las Vegas, Nevada from Utah in October 1904 and from California in January 1905. The town of Las Vegas, Nevada was founded at the division point on the railroad; it was surveyed and land plots were auctioned on May 15, 1905. The railroad established a subsidiary company, the Las Vegas Land and Water Company, to administer the townsite and other property, as well as its water. The railroad operated as the San Pedro, Los Angeles & Salt Lake Railroad until 1921, when Clark sold his interest to the Union Pacific Railroad and retired.


SAN PEDRO, LOS ANGELES AND SALT LAKE RAILROAD
The San Pedro, Los Angeles & Salt Lake Railroad, the first direct route from Salt Lake City to Los Angeles when it was completed in 1905, was perhaps the single most significant factor in the creation of what would become the city of Las Vegas, and later, Clark County.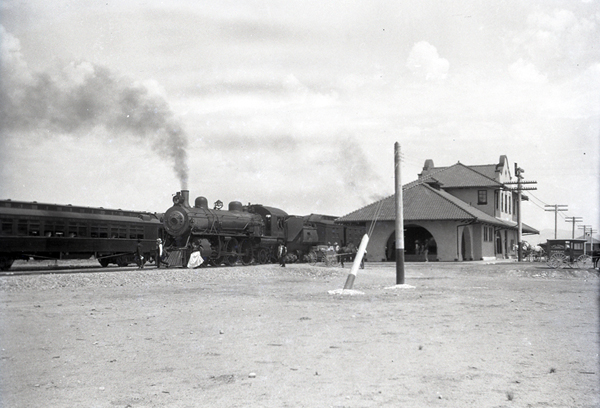 Courtesy Special Collections, University of Nevada-Reno Library

Starting in the mid-1850s, the Las Vegas Valley had been an oasis for travelers on the Mormon Trail, thanks to the area's supply of water and relatively fertile ground for growing crops. Few people lived in the valley during the second half of the nineteenth century, notably pioneer ranchers Archibald Stewart, his wife, Helen J. Stewart, their ranch hands, and some members of the Southern Paiute tribe. By 1900, only about thirty people lived in the Las Vegas Valley.

By the end of the nineteenth century, there was still no railroad linking the Great Basin's largest community, Salt Lake City, to the biggest metropolitan area in the southwestern United States, Los Angeles. Competition to build such a rail link pitted U.S. Senator William A. Clark of Montana against Edward H. Harriman, the owner of the Union Pacific. Clark wanted to send ore from his copper mines west, and Harriman sought to expand its already established railroad.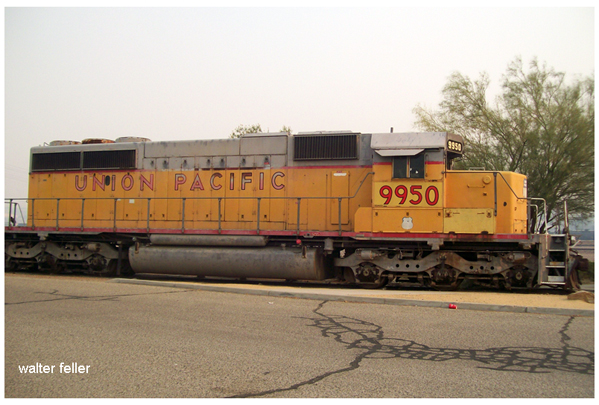 Harriman's Union Pacific made the first move in 1899, sending a series of short rail lines in Utah to Cedar City, near the Utah border with Nevada—about seventy miles east of the Las Vegas Valley. Clark entered the fray in 1900 by buying a small rail line, the Los Angeles Terminal Railroad. He renamed it the San Pedro, Los Angeles & Salt Lake Railroad.

Clark wanted to beat the Union Pacific's train, the Oregon Short Line, in the race to send a railroad through southern Nevada to Los Angeles. Both Clark and Union Pacific—each laying claim in court to holding the rights-of-way for their rail lines—began constructing grades for their rails in 1901. The rivalry resulted in at least one violent fight among the workers.

Union Pacific first obtained an option to buy ranch land and water rights in the Las Vegas Valley in 1901, but it failed to complete the purchase. In 1902, Clark bought the Stewart Ranch from Archibald Stewart's widow, Helen. Clark acquired the 1,800 acres for $55,000, with only $5,000 as a down payment. In addition, Clark got the Stewart ranch house and the Las Vegas Springs, the ranch's water source. He also purchased the nearby Kiel Ranch.

But the competition between Clark and Harriman continued. Both started building rail lines westward from Utah. The crews of the two rail builders met just north of Las Vegas at the Meadow Valley Ranch. In what would be called the Clark-Harriman War, both men claimed the right to build into the valley. The two rail barons finally negotiated a compromise. Clark was permitted to operate the San Pedro, Los Angeles & Salt Lake on the tracks in exchange for giving Union Pacific a fifty percent share in the railroad.

The San Pedro, Los Angeles & Salt Lake was completed in Jean, Nevada, twenty miles west of Las Vegas, on January 30, 1905. Trains started running through Las Vegas a few days later, although regular service did not start until May 1905.

Clark intended to transform his land in Las Vegas into a major train station with a staging area for his main railroad and other local short lines, as well as a place to store train equipment. He also wanted to sell property in small lots so that a town could be built there, including housing for his employees.

On May 15, 1905, Clark's executives held a two-day auction for commercial and residential lots in the area he called the Clark Las Vegas Townsite—now Main Street just north of Fremont Street. Dozens of prospective buyers took the train from Los Angeles and elsewhere to attend the auction. Although the nearby McWilliams Townsite had been established the previous year, most historians consider Clark's auction of lots the beginning of Las Vegas as a town.

Clark's railroad, which helped create other towns along its route, reduced the time it took to travel from Salt Lake City to Los Angeles to a single day. He soon completed a short line, the Las Vegas & Tonopah Railroad, that carried freight from Las Vegas 120 miles north to Beatty, Nevada, near the Bullfrog district. Some mistakenly believed that the area had rich mining potential.

By 1909, Clark enlarged the Las Vegas train yard and repair shop, and was employing 400 people. That year, legislators voted to create a new county and named it for him. He built a series of cottages for his workers, from 2nd to 4th streets downtown. In 1911, of the town's population of fifteen hundred, 450 residents worked for Clark's railroad.

Due to economic hard times, the railroad halted some services in Las Vegas in 1917. Clark's line to Beatty, which was losing money, was discontinued in 1918, and its rails and ties were removed. Finally, in 1922, Clark sold his share in the railroad to Union Pacific.

Suggested Reading:
Eugene P. Moehring and Michael S. Green. Las Vegas: A Centennial History. Reno: University of Nevada Press, 2005.
John R. Signor. The Los Angeles and Salt Lake Railroad Company: Union Pacific's Historic Salt Lake Route. San Marino, CA: Golden West Books, 1988.

Jeff Burbank
Last Updated: 2009-03-20 03:48:26

Source:
Burbank, Jeff, "San Pedro, Los Angeles and Salt Lake Railroad, ONE Nevada Online Encyclopedia," accessed 2019 February 01, http://www.onlinenevada.org/articles/san-pedro-los-angeles-and-salt-lakerailroad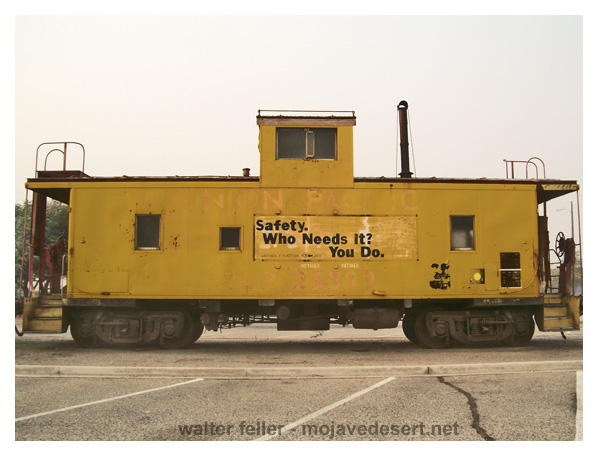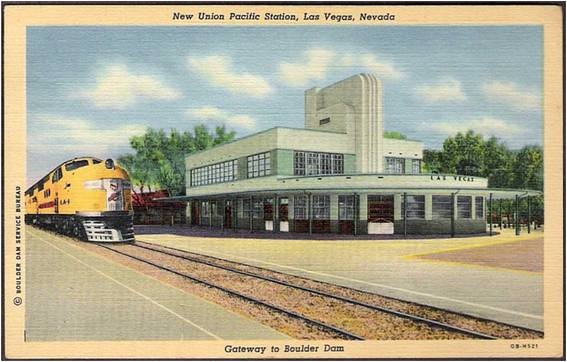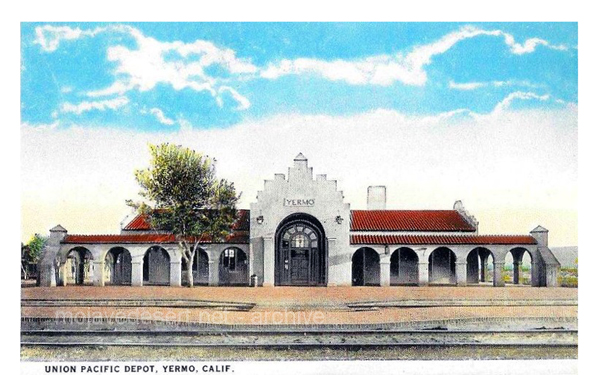 Yermo, California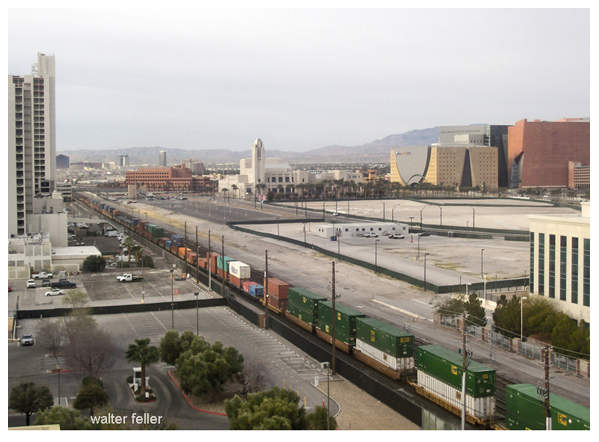 Las Vegas, Nv.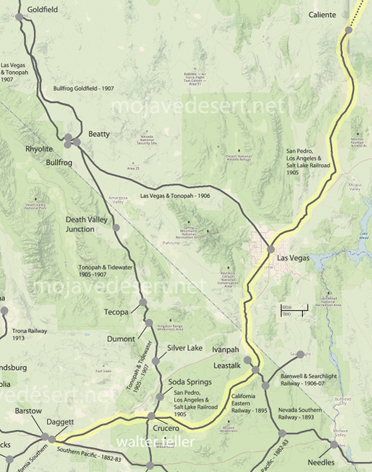 Click image for a larger map

Railroad History in the Mojave Preserve
A more moderately graded route was located in 1868 by General William J. Palmer, working for the Union Pacific Railway, Eastern Division. [40] That railroad ...

The Salt Lake Route
The first concrete evidence of Union Pacific intentions consisted of the Union Pacific interests pushing construction of a subsidiary Utah Southern southwest from ...

Kelso Depot
Kelso Depot seems like a quiet anomaly in the middle of the desert—but for the Union Pacific Railroad, it was a thriving necessity. Since its inception in 1862, the ...

Romantic Heritage of the Mojave River Valley
Strategically located on Highway 66 and served by the Santa Fe and Union Pacific, it is obvious that Daggett is enjoying a surging rebirth, all the more ...

Boron and Copper Discoveries
Immediately Smith's Pacific Coast Borax Company bought up the property. In 1905 the Los Angeles and Salt Lake Railroad (later the Union Pacific) was ...

Kelso, CA - Mojave Preserve
Kelso was a base of operations for the Los Angeles and Salt Lake Railroad (now part of the Union Pacific). Here, trains were watered and "helper" locomotives ...

Romantic Heritage of the Mojave River Valley
Around 1922, the Salt Lake line was bought by the Union Pacific, which established its main division point in the Mojave River Valley at Yermo. A new form of ...

Nipton, California
The name was changed to Nipton when the SP, LA & SL merged with the Union Pacific about 1910. For many years the depot served mainly as a cattle-loading ...

Desert Mining History - San Bernardino County
A new era of opportunity was ushered in with the January, 1905 completion of the San Pedro, Los Angeles and Salt Lake Railroad, (now the Union Pacific).

Kelso Depot
Writing of the need for a new station in Yermo, California, in a location only slightly less remote than Kelso, Carl R. Gray, President of the Union Pacific notified ...

Daggett Garage, Route 66, Daggett, California
That rusty sheet metal-built building located close by to the Stone Hotel and the Daggett Market, between Santa Fe Street and the Union Pacific railroad tracks, ...

The Road Builders: A History of the Victor Valley - Mojave Desert ...
All of the above have been abandoned or merged with either Santa Fe or Union Pacific. For the next 35 years, nearly everything that wasn't carried in a wagon ...

Romantic Heritage of the Mojave River Valley
Its strategic location can be likened to the hub of a wheel, the spokes radiating out representing the Santa Fe and Union Pacific railroad lines and that US ...

Mojave National Preserve
The old Union Pacific train depot at Kelso serves as a wonderful reminder the railroading hey-days of the 1920s. The collection of buildings at Soda Springs, ...

Timeline of History of the Mojave Desert
1906 Salt Lake City–Los Angeles railroad built through the desert (later became Union Pacific Railroad) 1916 Federal Aid Road Act leads to development of ...

Zion - People
State officials also negotiated with the Union Pacific Railroad to develop rail and automobile links and tourism facilities in southern Utah. By the summer of 1917, ...

Colorado River - Hoover Dam FAQ
... (3) construction of 22.7 miles of standard-gauge railroad from the Union Pacific main line in Las Vegas to Boulder City and an additional 10 miles from Boulder ...

Human Impacts on the Mojave National Preserve Area
The first rail lines through the Mojave Desert were completed in 1906; the Kelso Depot was built in 1924 by the Union Pacific Railroad to serve as a transfer point ...

Cima Ghost Town - Mojave National Preserve - California Mojave ...
Boiler water was needed for the locomotives pulling trains up the 18-mile, 2,000- foot grade to Cima. Later the line was sold to the Union Pacific Railroad, which .

Historical Note

At the turn of the century, Montana copper-king and senator, William A. Clark, incorporated the San Pedro, Los Angeles & Salt Lake Railroad, intending to connect the Los Angeles port of San Pedro, California with Salt Lake City, Utah. The Oregon Short Line, a subsidiary of E. H. Harriman's Union Pacific Railroad, also intended to develop a Salt Lake-Los Angeles route. After a frantic track-building race, Clark and Harriman resolved their differences and in 1903 signed an agreement on joint ownership of the Salt Lake route. The tracks reached the site of Las Vegas, Nevada from Utah in October 1904 and from California in January 1905. The town of Las Vegas, Nevada was founded at the division point on the railroad; it was surveyed and land plots were auctioned on May 15, 1905. The railroad established a subsidiary company, the Las Vegas Land and Water Company, to administer the townsite and other property, as well as its water. The railroad operated as the San Pedro, Los Angeles & Salt Lake Railroad until 1921, when Clark sold his interest to the Union Pacific Railroad and retired.

Source:
Burbank, Jeff, "San Pedro, Los Angeles and Salt Lake Railroad, ONE Nevada Online Encyclopedia," accessed 2019 February 01, http://www.onlinenevada.org/articles/san-pedro-los-angeles-and-salt-lake- railroad