Desert Habitats
Cactus-Yucca Scrub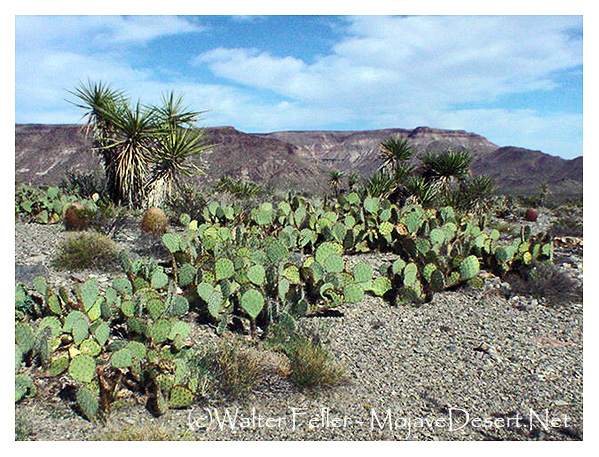 Cactus, or mixed desert scrub includes the popular notion of "desert." Barrel cactus are prominent on south-facing slopes. They germinate only in years with favorable rainfall, so barrel cacti growing near one another are usually of the same age. If you visit the Mojave in spring you may witness these desert cacti in beautiful bloom.

The greenish-gray Mojave rattlesnake blends in easily with this habitat. Aggressive and highly venomous, it is one of the few dangerous animals in the desert. This snake is most active at night and in the early morning but be careful where you place your hands and feet at all times.

Early morning is also a good time to spot a Gambel's quail feeding on cactus seeds and berries. These birds nest in abandoned nests of roadrunners, thrashers, and cactus wrens.


Also see:

Natural Science: Joshua Tree National Park
The Mojave yucca forms a trunk that sometimes branches. Here is the foolproof distinction: the Mojave ...

Desert Ecosystems - Joshua Tree National Park
Discarded limbs or the tree's toppled body provide homes for the yucca night lizard and termites. ..

Skull Rock Nature Trail - Joshua Tree National Park
Different habitats may be encountered within a short distance of each other. Cactus-Yucca Scrub Habitat, Desert Wash, Joshua Tree Woodland ...

The Lost Horse Mine - Joshua Tree National Park
Description: Site of ten-stamp mill and foundations. Summit elevation: 5278 feet. Primarily - cactus-yucca scrub habitat. ...

North Mesquite Wilderness
Joshua tree woodlands, yucca, cactus, blackbrush and grasses grow within the region, providing habitat for desert wildlife. ...

Mojave Desert Cactus
Photos of Cactus in the Mojave Desert. ... cactus garden in the Mojave Preserve near Mitchell Caverns SRA. ...

Gambel's Quail
Desert Wildlife - Gambel's Quail Bird: Prey: Herbivore: Diurnal Habitat: Cactus-Yucca Scrub Mammals - Predators Mountain Lion ...

Cactus Wren - Birds, Wildlife in the Mojave Desert
The Cactus Wren is native to the south-western United States southwards to central Mexico. It is a bird of arid regions, and is often found around yucca, ...

Mojave Rattlesnake
Desert Wildlife - Mojave Rattlesnake Also see > Reptile: Predator: Carnivore: Diurnal Habitat: Cactus-Yucca Scrub Mammals - Predators ...