Mojave Desert Indians - Historic Desert Indian Territories Map: Cahuilla Indians

Trade, Exchange, Storage
The Cahuilla used huge basketry granaries set on poles for storing acorns, mesquite beans, screw beans, and other foodstuffs. Seeds, dried fruits, and raw materials were stored in ceramic ollas. Fruits, blossoms, and buds were dried in the sun to preserve them, and other foods were preserved by sealing them hermetically with pine pitch.

Cahuillas' favored trading partners were the Halchidhoma, before the 1830s, and the Gabrielinos. Many exchanges were on a basis of reciprocity (Bean 1978:583).

Since virtually all humans live in some kind of society and have at least a few possessions, reciprocity is common to every culture. To the Cahuilla culture, reciprocity was a way of defining people's informal trading of goods and labor; an informal, non-market economic system. This was virtually uninhibited giving or sharing without expectations of anything in return. Similar are the relationships between a man and wife, or parents and children. What makes this interaction "reciprocal" is the sense of satisfaction the giver feels, and the trust and social closeness that the gift fosters.
Social Structure
Like Serrano clans, Cahuilla clans belonged to either Wildcat or Coyote moieties, which were exogamous, non-political, and non-territorial. Cahuillas were forbidden to marry within five degrees of consanguinity. Each clan was composed of three to ten landholding patrilineages. The net of each lineage was its administrator of political, economic, and religious affairs. He was helped by an administrative assistant, the paxa, and other officials (Bean 1978).



<< Previous << Cahuilla >> Next >>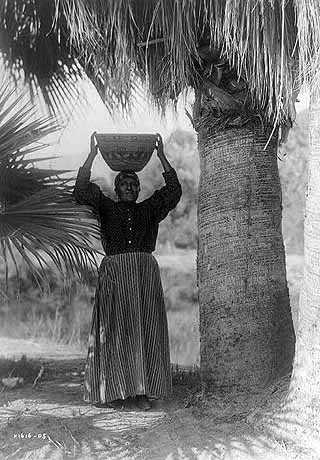 Cahuilla woman with harvest basket under fan palm tree