Mojave Desert Mining History
Chronology of Ghost Towns & Mining History
(Dates used are first mention of year of discovery or date being worked. - Further use and development dates are not included here unless no other date is available. Some dates are approximate. See the individual chapter for more information)
1848:
Salt Spring
The earliest recorded gold discovery in San Bernardino County occurred at Salt Springs, at a point on the Santa Fe-Salt Lake Trail (Old Spanish Trail). Persistent rumors have it that gold ...
1859:
Bodie, California
... by prospector Wakeman S. Bodey, who the town was named after. Bodey died in November making a supply trip and becoming stranded in a blizzard.
1860:
Coso
Coso was discovered in March 1860 by Dr. E. Darwin French who was looking for ...

Tecopa
At approximately the same time Pablo Flores discovered Cerro Gordo, silver-lead ores were discovered ...
1861:
White Mountain City
A year after the discoveries at Coso, J. S. Broder, Col. L. F. Cralley, the Graves brothers and Dan Wyman ...

New York Mountains
James Crossman indicates that mining commenced in the New York Mountains in 1861 ...

Sage Land Mining District
Shortly after the town of Claraville was founded in 1861 prospectors discovered ...
1862:
The Rise & Fall of Cerro Gordo
Originally a small-scale operation worked by Mexicans between 1862 and 1866, the mine was included ...

Turtle Mountains-Sunrise District
Perhaps as early as 1862, rich gold and copper deposits were being worked in the Turtle Mountains.

Whipple Mountains
Within the Whipple Mountains area, the Chemehuevi District extended from opposite the Bill Williams River to ...

Copper Basin
Mining in Copper Basin is what sparked interest in the Whipple Mountains during this century. ...
1863:
Freeman District
In October, 1863, it was described as "quite a large one (district) containing many ...

Irataba District (Marengo)
The Irataba Mining District, heralded as the "richest copper district on the Colorado," was ...

Rock Spring
Charles Hamilton and Francis B. Austin on March 12, 1863, discovered some rich silver ore about
1864:
1865:
Cerro Gordo
Wandering prospectors from the Coso area were responsible for the discovery and early development of Cerro Gordo. ...

Tecopa
At approximately the same time Pablo Flores discovered Cerro Gordo, silver-lead ores were discovered at ...

Ivanpah Mountains
(Date approximate) The Bullion Mine, on the north end of the Ivanpah Mountains is reported to have been discovered ...
1866:
Anthony Mill Ruins
There is an almost certainly spurious story circulating that this mine was worked by Mormons. ...
1868:
Clark Mountain - Ivanpah
... a Piute Indian brought a piece of metallic copper to Johnny Moss, "a frontiersman and well-known prospector." After ...
1870:
Darwin
(Also see 1874)... gold, silver, and lead deposits were again discovered in the Coso Range, resulting in ...

Avawatz
Avawatz, also spelled Ava Watts, Ivawatz, Iva Watch, and Ivanatz is probably derived from the Mohave word Avi-Ahwat meaning ...
1871:
Chloride Cliff
... some say he picked up a rock to kill a rattlesnake and found ore--Franklin somehow found what he thought was a vein of ...
1872:
1873:
Old Woman Mountains
About March of 1873, Mr. S. C. Hammer discovered a ledge "situated between the Old Woman Mountain and the Colorado," while ...

Twentynine Palms
The first discoveries in the Twentynine Palms area were made by Dave Gowen and Joseph Voshay. ...

Panamint
Another product of the search for the Lost Gunsight Mine was Panamint, a boom camp whose mines were first discovered by bandits ...
1874:
Darwin
The silver-lead ore bodies at Darwin (named after Dr. E. Darwin French) were discovered in late October or ...
1875:
Savahia Peak Area
West of Copper Basin, probably one of the first mines to be developed was the American Eagle. A somewhat confusing account in ...

Exchequer District
In the 1870s an old German named Erick Vontrigger made some mineral locations, and camped at what is known as Vontrigger Spring, ...

Waterman
(Date approximate) Five years before the famous silver discoveries at Calico, George G. Lee discovered what he thought was ...

Riggs Mine
In 1875 he married Sarah and soon after made the first discovery in the Silurian Hills at the Alta Mine. ...
1876:
Ord Mountains-Fry Mountains
Sandie Lochery located the first mining claims in the Ord Mountains in 1876, naming them the Ord Group. ...

Lookout
Two years after the discovery of Panamint, on April 22, 1875, rich silver-lead deposits were discovered on ...
1877:
Wildrose Charcoal Kilns
The kilns operated until the summer of 1878 when the Argus mines, due to deteriorating ore quality, closed and ...

Beveridge
Probably the most inaccessible gold-producing district in Inyo County, and also its most productive, ...
1879:
Dry Lake & Vicinity
In the fall of 1879, George G. Lee, the man who generally is credited with the discovery of silver at Calico, died ...
1880:
Providence & The Bonanza King
Andy McFarlane and Charley Hassen "concluded to try their luck, and were rewarded by the discovery of a wonderful bonanza."

Providence
... prospectors from Ivanpah, discovered rock that assayed from $640 to $5,000 a ton in silver. Their discovery, about 15 miles ...

Nantan
The Cambria was a gold and silver mine discovered sometime before the spring of 1880 by ...
1881:
Harmony Borax Works
During the summer months, when the weather was so hot that processing water would not cool enough to permit ...

Calico Ghost Town
Below the Silver King Mine the town of Calico grew slowly. In the spring of 1882 there were only 100 people living ...

Alvord Mine
The Alvord Consolidated Quartz Mining Company, in February, 1881, agreed to ...
1882:
1884:
Kramer
In July 1884, the Kramer Siding on the Santa Fe Railroad had but one inhabitant, the depot agent. However, ...
1888:
Paradise Mine
In 1888, large deposits of gold ore were known to exist at Paradise. The ore was reported to pay ...
1890:
Vanderbuilt
The gold at Vanderbilt was discovered by Bob Black, A Piute Indian, about 1890. However, he "had the usual experience of ...
1893:
North Sacremento Mountains
In April, 1893, the new Needles Reduction Works started up on ore from the Ibex. By ...

Ballarat
Charles Anthony and John Lampier located the Panamint Valley Mine on July 27, 1893. This mine, also known as ...
1894:
Lost Horse Mine
When the story of the Lost Horse Mine is told, it sounds like a western campfire tale: gun slinging cowboys, cattle rustlers, horse ...
1897:
Stone Hammer Mine
Two companies, known as the Himalaya Mining Company and the Toltec Mining Company set to work on the property. The Himalaya Company sank a well and ...

The Orange Blossom Mine
In 1897 a Chemehuevi Indian named Hikorum discovered ore north of Amboy. Hikorum , "a prominent man among his people, ...
1898:
Baghdad-Chase Mine
About 1898 John Suter, a roadmaster for the Santa Fe, headed into the hills south of Ludlow looking for water. Instead of water, he discovered

Copper City
Copper City reportedly was first discovered in the 1880s. In 1898, Copper City was alive and the Juanita Mine was ...

Goldstone
(Date approximate) Gold was reportedly discovered at Goldstone as early as the 1880s. During the late summer of 1910, ...
1899:
Rosalie
A post office was maintained at the Ivanpah camp until April 24, 1899, at which time it was moved to ...
1900:
Coolgardie
About May, 1900, placer gold was discovered in shallow gravel 20 miles north of Barstow by Dick Duncan.
1902:
Halloran Spring Gold Mines
(Date approximate) The first evidence of gold mining in the Halloran Spring area is provided by a 1902 miners' map of ...
1903:
Keane Wonder Mine
Since this was Keane's first strike in 8 years of desert prospecting, it is not surprising that he named it the...
1904:
Rhyolite, Nevada
"... the quartz was just full of free gold... it was the original bullfrog rock... this banner is a crackerjack" declared Shorty!
1905:
The Inyo Mine
It appeared that the prospector's dream was about to come true for the two men, as they found ...

History of Leadfield
Leadfield, in fact, had ore from the beginning, which was in 1905, not in 1925. During the early days of the Bullfrog boom...

Halloran Spring Turquoise Mine
In 1905, G. F. Kunz described the discovery of turquoise in the Halloran Spring area: "Mr. T. C. Bassett had ...
1906:
History of Skidoo
In January 1906 two wandering prospectors, John Ramsey and John (One-Eye) Thompson were headed towards the new gold strike at Harrisburg. Along the way ...

Goldbend
During the summer, they made a shipment to the Needles smelter which yielded an amazing 13 ounces of gold a ton. ...

Death Valley Mine
The Death Valley Mine was discovered in 1906 by J. L. Bright of Kelso. In July, 1906, the ...
1907:
The Garvanza Mine
The Garvanza Mining and Milling Company of Michigan first worked its mine in Cliff Canyon on the north slope of the New York Mountains in

Hart
On December 19, 1907, Jim Hart, with Bert and Clark Hitt, discovered gold, soon transforming a corner of the eastern Mojave into ...

Gold Belt Mine
The Great Gold Belt Mine, 14 miles northeast of Amboy, was quite a discovery. When stumbled upon in 1907, the remains of ...
1908:
Gold Valley
In late summer of 1908, high grade gold was discovered 28 miles southwest of the new boomtown of Hart. ...
1909:
Gypsite - (Koehn Dry Lake)
Charley Koehn discovered gypsite near his homestead and staked claims on it in 1909. A year later a small ...
1910:
Slocum Camp-Opal Camp
Slocum Camp, near Copper City, derives its name from Dr. Samuel Slocum. Dr. Slocum and his wife lived ...
1911:
Silver Lake Talc Mines
Ten miles northeast of Silver Lake a two-mile long discontinuous outcrop of talc schist has been mined at ...

Saltdale
In between Mojave and Willow Springs in southern Kern County is a cave where desert Indians reportedly ...
1913:
Clipper Mountains
Some mining was going on in the Clipper Mountains in January, 1913, and when large gold-bearing quartz ...
1915:
Crutts
About the time Goldstone sprang into prominence, another dot appeared on the map a few miles southwest, ...
1921:
Chubbuck
Thus, in 1921, Mr. Chubbuck purchased the claims to 1,600 acres of limestone along the Parker branch of the Santa Fe railroad to obtain a ...
Feature Photo Tours:
Ghost Towns & Sites
Gold Mines & Mill Ruins
Feature Article:


The Mint at the Mescal Mine
The Mescal mine lay on the east slope of one of the largest mountains in the Mescal range...A tunnel opened in the side of the mountain about half way between its base and summit, ran in three hundred feet and crosscut an almost perpendicular vein of silver ore of about eight feet in thickness. ...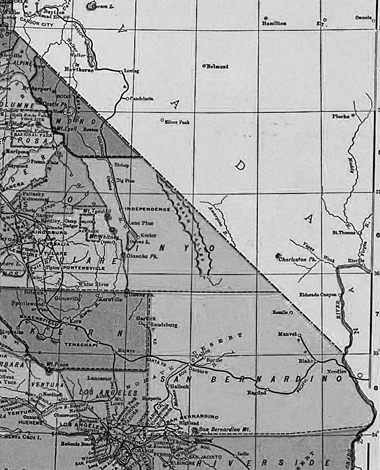 Desert Fever
While this volume was not intended to be a comprehensive history of all mining activity that has occurred withing the California desert, the attention given to many of the significant mines should make it useful as an overview, ...

Inyo County
Inyo County owes much of its development to a single incident that occurred in the winter of 1849-1850. Approximately one hundred impatient emigrants, drawn west as part of the great California gold rush, found themselves trying to escape Death Valley after ...

Kern County
Kern County ranks first in overall gold production within the California Desert. The dollar figure has been estimated at over 46 million dollars, with almost half of that coming from just two gold mines: the ...

San Bernardino County
San Bernardino County is not only the largest county in California, but it is the largest in the United States. As a county it has been uniquely endowed with rich mineral deposits. ...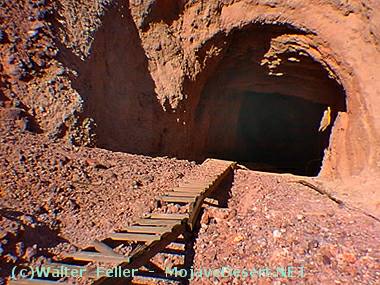 Looking down into a mineshaft at the Stedman - Bagdad-Chase (San Bernardino county)


The Miner's Ten Commandments
A man spake these words, and said: I am a miner, wandering "from away down east," to sojourn in a strange land. And behold I've seen the elephant, ...