*** Official ***
Mojave River Valley Museum
BOOK STORE
Heritage of the Upper Mojave Desert

Boron. What was formerly Amargo is the community of Boron today. When a camp was created for employees of the mining operations which began in 1926, it was called Boron, after the element boron found in borate ore. about 1932, Charlie Trenery's saloon was the first building to be erected at the present townsite. Soon, some of the married men built their homes near the railroad track and the new town started. Santa Fe Railway moved its Kramer depot here in 1941.

Obviously, the economy of Boron has been dependent in large measure upon the operations of the US Borax and Chemical Corporation. with the location of the rocket engine testing station at nearby Edwards Air Force Base operated by this 6593D Test Group (Dev.) Air Force Systems Command, and the creation of the Boron Air Force station, 750th Radar Squadron (SAGE), Boron's growth has been accelerated, as reflected in its expanding trading area.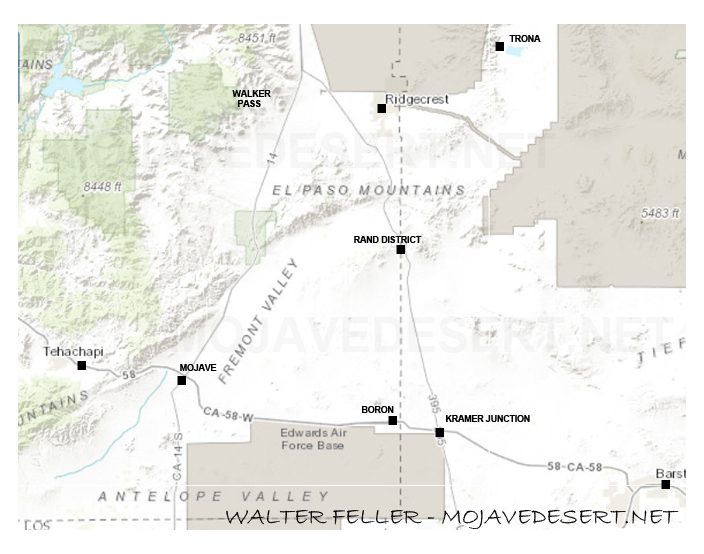 Trona. Named after "trona," a crystalline salt deposit found in the reefs on Searles Lake, this prosperous community is the largest in the Searles Valley. Its growth, over almost half a century, as Base with the increased activities of the American potash and Chemical Corporation, which provides the basis of Trona's economy. In addition to its expanding business district, residential development has gone forward, including the fine suburban area at Pioneer point nearby. Recreation of every type is to be found here, including an 18 hole golf course and large swimming pool. Trona benefits from the increasing traffic to Death Valley which takes this picturesque route.

The community of Argus is situated to the south of Trona.

Westend. Overlooking Searles Lake, this community was created as a company-owned town by the West End Chemical Company, which maintains a recreation all, swimming pool, athletic field and many other facilities. A worthwhile addition to Westend's housing is a recent development of a district of fine, modern homes against the foothills.

Rand District. All too few motorists over Highway 395, when passing through Atolia, Red Mountain, Johannesburg and by the turnoff to Randsburg, appreciate the full significance of the historical background of these communities. There are those who believe that the great wealth which still lies underground will be the source of a new and greater prosperity someday in the future.

Although the modern history of the California Interstate Telephone Company dates but from 1954, it's origin can be traced back half a century, or more, to those pioneer companies which are now a vital part of the system. Some had their humble beginnings in the rugged formative days when it was necessary to serve the booming mining camps.

In 1904, two Denver men, who were unsuccessful in finding promising mining claims at Tonopah and Goldfield, discovered possibilities of hydroelectric power development on Bishop Creek to supply the mines. the Nevada Power, Mining and Milling Company, was organized in a plant in transmission lines were constructed. Soon more power was developed in the mining districts could use, resulting in the building of the world's longest transmission lines into San Bernardino and Riverside counties. The public utility became the California Electric Power Company in 1941.

Previous - 1 - 2 - 3 - 4 - 5 - 6 - 7 - 8 - Next