*** Official ***
Mojave River Valley Museum
BOOK STORE
Heritage of the Upper Mojave Desert

The Naval ordnance test station was established by Sec. of the Navy Frank Knox in an order dated November 8, 1943. Until April 1945, it's primary function was to provide facilities and services to the California Institute of Technology (CIT), which was doing wartime rocket development work for the Office of Scientific Research and Development.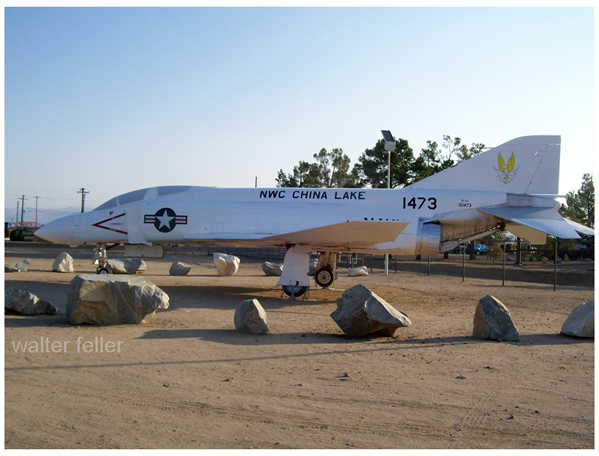 With the assistance of CIT personnel, the Bureau of Ordnance begin construction of the Station in 1943. Although the immediate objective was to support the wartime rocket work of CIT, the long range objective was to equip the Station as a permanent center for rocket ordnance research, development, and testing. Along with the building of the technical facilities, it was necessary to build housing and community facilities for Station personnel. In 1945, the Bureau of Ordnance took over the area as a permanent research and development center for rockets and other missiles. The main area of the Naval Ordnance Test Station (NOTS) covers 1,198 square miles in Indian Wells Valley and adjacent mountains

Headquarters area is in the northeast corner of Kern County and includes the community of China Lake. Many major facilities and test ranges are located in Inyo and San Bernardino counties. The test activity at Randsburg Wash, 23 miles southeast of NOTS, contains a nether 796 square miles. In addition to these desert areas, NOTS, China Lake, is headquarters for operations at NOTS, Pasadena, Morris Dam, Long Beach in San Clemente Island. Although its name labels it as a test station, it is primarily a center for research and development of weapons. Management control and direction of the Station was transferred from the Bureau of Ordnance to the newly established Bureau of Naval Weapons in December, 1959.

Since 1943 the Station has grown from a small cluster of Quonset huts to a full-size research Center with its modern laboratories and test ranges. Michelson Laboratory, dedicated in May, 1948, is the center of the technical operations at NOTS. Millions of dollars had been spent in equipping the Station for research and development on advanced weapons systems. The physical plant and equipment at NOTS are valued at $300 million, with a large portion of this being in the China Lake area.

The Naval Ordnance Test Station employs approximately 3775 civilians and 1150 military personnel at China Lake. The community of China Lake, completely government-owned, houses 13,000 residents. The high professional level of these residents gives the community the air of a college town.

The main research and development facilities at China Lake are located in Michelson Laboratory and at the Propulsion Laboratories. The Naval Air Facility (NAF) gives aviation support for the programs of research, development, and test.

Weapon development at NOTS covers a wide range of items: guided missiles, freefall weapons, rockets, anti-submarine weapons, fire control systems, Limited warfare ordinance, space vehicle components, and new propulsion systems. In the historical category of missiles developed here are Holy Moses, Tiny Tim, and Mighty Mouse. Among the more modern ones are Sidewinder and Zuni. The Sidewinder went into use on fleet aircraft carriers in 1957.

In support of Station as well as service-wide development programs, NOTS operates five major ground ranges, three test tracks, and to major aircraft ranges. These ranges and tracks with their extensive instrumentation represent one of the nation's most complete and versatile facilities for testing modern weapon systems and their components through early design and development stages.

In the Boron area, the 6593D Test Group (Dev.) Of the Air Force Systems Command performs applied research and rocket propulsion, both chemical and nuclear, as well as test of systems in missiles. A dozen or so steel and concrete test stands are located on Leuhman Ridge at the Edwards Air Force Base. Here are powerful rocket engines, and sometimes entire missiles, are bolted down tightly then fired to test their qualifications. The need for such a Group operation was recognized in 1946, when World War II development in rocketry started. The next year this site was selected in the first test firing took place in 1952.

To the north of Kramer Junction, atop Mockingbird Hill, since the 750th Radar Squadron, a silent sentinel overlooking the Mojave Desert. It is a member of the Air Defense Command and part of the Western Air Defense Chain. The information obtained through the units radar equipment is transmitted to the SAGE Direction Center at San Bernardino, and used in the defense of Southern California.

What of the future? Residents of the upper Mojave Desert predict achievement in the years ahead far beyond the wildest dreams of the rugged pioneers.

Previous - 1 - 2 - 3 - 4 - 5 - 6 - 7 - 8 - Next