*** Official ***
Mojave River Valley Museum
BOOK STORE
Heritage of the Upper Mojave Desert

Ridgecrest. Largest community in the Indian Wells Valley, the rapidity of its growth has been approached by few California cities. This community, within the brief period of 30 years, has expanded into a thriving trading center for some 30,000 people, 22,000 of whom reside in Ridgecrest, Inyokern, China Lake (NOTS) and immediate environs.

In the 1920s, the site of Ridgecrest was homesteaded property, with alfalfa as a principle crop. In the 1930s, Crum brothers were operating a small dairy to serve Trona and Westend. because of an adequate housing for families of workers at those industrial communities,a group of employees purchased lots at the present Ridgecrest site and erected homes. The ladies of the small village decided that it should be called "Sierra View," the post office officials notified them that it would be Ridgecrest because there were too many cities already using " Sierra" as part of their names.

When the first store was erected in 1939, there were but 15 homes. Little change took place in the struggling down until 1943, when the Navy came streaming into the valley with trucks, bulldozers, cranes and other equipment to build the Naval Ordnance Test Station at adjacent China Lake. The impact on Ridgecrest was immediate. Almost overnight, the village became a teaming center of activity with the erections of stores, homes, schools and churches, service and utility facilities following one after the other.

With the expansion of NOTS, Ridgecrest growth has continued unabated. Today there are some 300 business establishments, with the payroll of approximately $6 million and more than 3000 homes and apartment units. Ridgecrest is proud of its fine schools, churches, residential developments, the Drummond Medical Group and Ridgecrest Hospital, and civic and recreational facilities. the resort, scenic and recreational attractions of this Valley, and those in the Sierras and Death Valley nearby, are responsible for the increasing tourist travel through the Indian Wells Valley.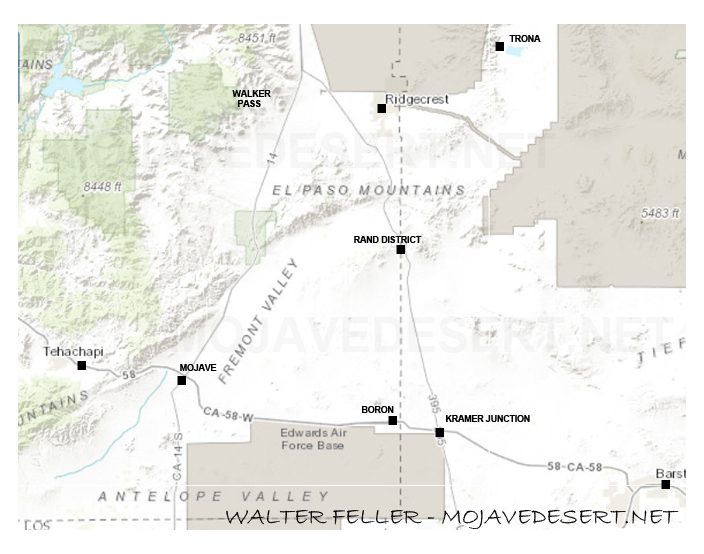 Inyokern Oldest in the Indian Wells Valley, this community was known originally as Magnolia. With the extension of the Southern Pacific Railroad to all supplies for the Los Angeles aqueduct in 1910, this camp was established as a siding. In 1913, it was named Inyokern because of its proximity to the borders of the two counties. During the succeeding years, homesteads were developed with orchards and diversified farming, but why the late 1920s this activity had been greatly reduced.

Increasing automobile traffic over the newly paved Highways 395 and 6 during the 1930s provided incentive for new development, as did the creation of the airport in 1933. This airport was the original site of NOTS before it moved to the China Lake area.

Inyokern benefited from the expansion of NOTS, nearby, and homes, businesses and services were built to take care of employees at the base. today because of its strategic location on Highway 395, near the junction of Highway 6, and overall growth of the Indian Wells Valley, Inyokern can look to the future with confidence.

Previous - 1 - 2 - 3 - 4 - 5 - 6 - 7 - 8 - Next