Heritage of the Mojave River Valley -=-

The year 1846 began a new epoch. Horse thievery became unprofitable with soldiers of the Army's Mormon Battalion guarding Cajon Pass and what California placed under the Stars & Stripes. When the war was over, the discharge soldiers of the Mormon Battalion headed back to Salt Lake, venturing to take with them a wagon loaded with flour, seeds and through cuttings from the verdant Santa Anna Del Chino Rancho. that historic wagon pioneered the old pack train trail for wheeled vehicles. It was the forerunner of today's route of US 91 Highway and the Union Pacific Railroad.

The 1850s probably brought the greatest occasion for wonderment on the part of the desert's natives when a Lt. Edward Beale led a herd of camels driven by swarthy Syrian drivers through the Mojave, With Los Angeles and his ranch in Tejon Pass as his destinations.

By this time, the sketchy early trail had become rutted by the wheels of settlers' wagons. In 1851, a group of nearly 500 Mormon colonists had come from Salt Lake. They were to settle in San Bernardino. In 1857 a large part of them went back on call by the church but by that time, covered wagon caravans had become a common sight on the desert.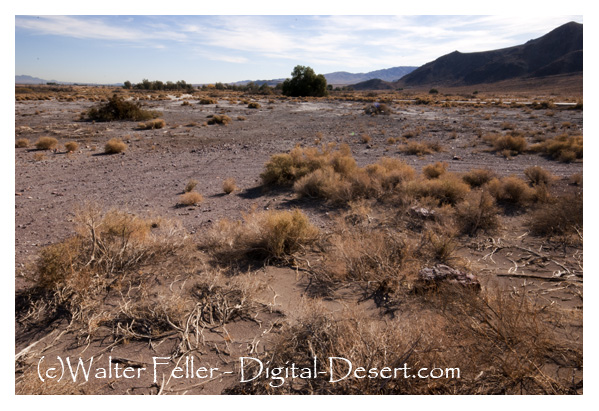 The 1860s brought the great American Civil War, with divided loyalties in California and the threat of its invasion from Confederate forces in Texas. California volunteers set out to secure the states gateways and established a chain of little readouts were forts across the Mojave, with the main base, named Camp Cady, located northwest of the present Newberry. When the war ceased, desert travelers were plagued with raiding Piute bands from farther north and the little desert forts again were manned, this time by regulars. Mail service began and stagecoaches jolted over what became known as the Old Government Road to the Colorado River.

page - 2
Previous 1 - 2 - 3 - 4 - 5 - 6 - 7 - 8 - Next