Railroads and Railways of the Mojave Desert
Southern Pacific Railroad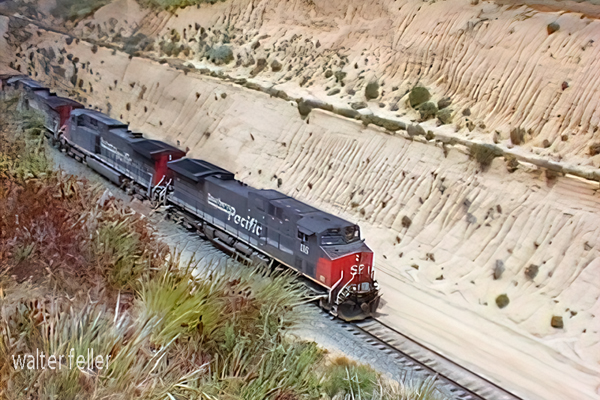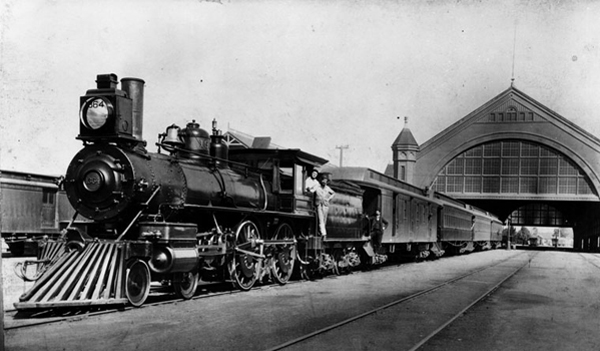 Feature Articles and Related Pages

Railroad History in the Mojave Preserve
That railroad was never built, but the Southern Pacific constructed a line through the desert in 1882-83, from Mojave to Needles, largely along ...

Lancaster CA
The Southern Pacific Railroad built a line from San Francisco to Los Angeles which was completed in 1876. Along the line was a water stop located in what is ...

Rosamond, CA
Rosamond was originally established in 1877 as a townsite which was owned by the Southern Pacific Railroad and was named 'Rosamond' after the daughter of ...

Caliente, CA
Caliente, formerly Allen's Camp was renamed when the Southern Pacific Railroad established construction headquarters here in 1878 while track was laid over ...

Mojave, CA
Mojave began in 1876 as a construction camp on the Southern Pacific Railroad. From 1884 to 1889, the town was the western terminus of the 165-mile (266 km), ...

Death Valley in '49
The low mountains as those seen in the northwest direction is the same place now crossed by the Southern Pacific Railroad, and known as the Tehachipi pass, ...

History of Antelope Valley
... along its foothills after Fremont's visit and were the preferred way of travel for colonists before the coming of the Southern Pacific railroad in 1876. ...

Railroads in the Mojave Desert
To the south, they extended rails first to San Francisco Bay, and then incorporated the Southern Pacific Railroad to try to replicate their Central Pacific ...

Daggett Museum - Daggett California
The finding of silver in Calico and the building of the Southern Pacific Railroad from Mojave to Daggett in 1882, set the stage for history of a town ...

History of the Eastern Mojave
Newspapers in southern California whipped the citizenry into a fury, ... until the Southern Pacific / Atlantic & Pacific Railroad was completed in 1883. ...

Chemehuevis at Twentynine Palms
The situation became especially desperate for the Indians when the Southern Pacific Railroad Company, which had been granted alternate sections of land on ...

El Paso Mining District
With the railroad complete more efficient mills were within reach and the small ... In 1911 the track laying crews of the Southern Pacific briefly camped at ...


Historic RR Chronology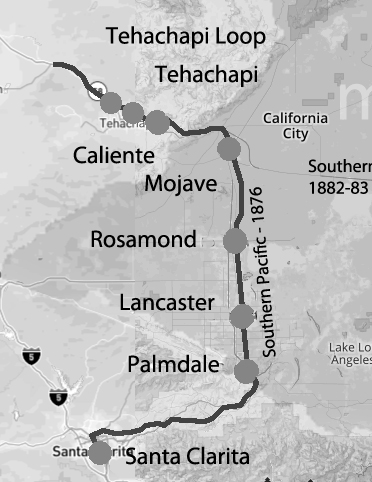 San Joaquin Valley Line 1876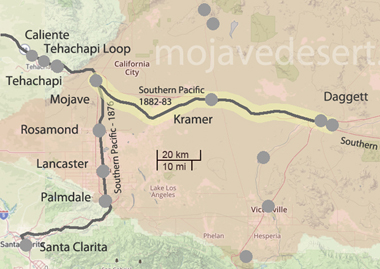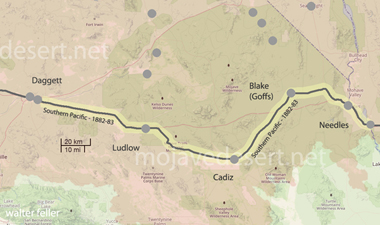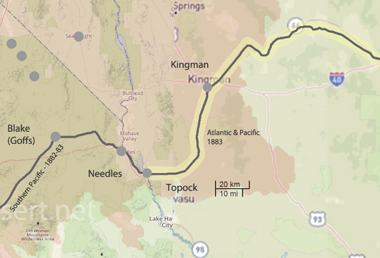 Notes:

By the 23d section of the act of March 3, 1871, supra, Congress made a grant of land to the Southern Pacific Railroad Company, to aid in the construction of a railroad from—

Tehachapa Pass, by way of Los Angeles, to the Texas Pacific railroad at or near the Colorado river, with the same rights, grants, and privileges, and subject to the same limitations, restrictions and conditions as were granted to said Southern Pacific Railroad Company of California, by the act of July twenty-seven, eighteen hundred and sixty-six.


Source - Decisions of the Department of the Interior and the General Land ..., Volume 30 By United States. Dept. of the Interior, United States. General Land Office, page 245.

Lang Station Site
Saugus, Los Angeles County

On September 5, 1876, Charles Crocker, president of the Southern Pacific Railroad Company, drove a gold spike here to complete his company's San Joaquin Valley Line. This was the first rail connection between Los Angeles and San Francisco. The majority of the railroad workers were Chinese Americans. Many of them were experienced in railroad construction because they had been employed in building the transcontinental line in the 1860s.

Railroad tracks, crossing signals, and equipment mark this site, which no longer has a station building.

Source - NPS
Five Views: An Ethnic Historic Site Survey for California
A History of Chinese Americans in California: HISTORIC SITES