Mojave Desert History - Pioneer of the Mojave
Toll Road through the Cajon Pass
Brown Improves Toll Road
In the latter part of 1874, John Brown finally decided to make some improvements to the turnpike, a decision no doubt spurred for the most part by the explosion of activity created by the Panamint mines, and the constant flow of traffic between there and the Southern Pacific railhead at Spadra. The increase in toll collections from this traffic was substantial enough to support a major reconstruction on the steepest segment of the road near the summit.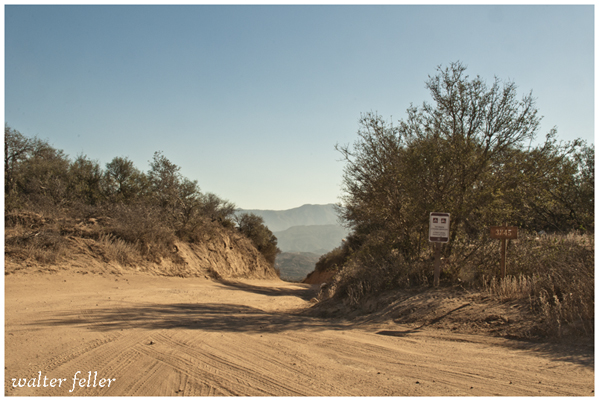 The cut at the summit reduced the grade making it easier to pass.

In September Brown promised to relocate the road, so that teams could "go through the low gap to the right of the top of the hill, thereby avoiding the high ascent of the present road." He also planned to improve the new route by blasting a 185-foot segment in order to reduce the grade even further. In early December it was reported that a "splendid highway" was under construction, and Brown announced he would "spare no expense in improving it to perfection." On December 28th the San Bernardino Weekly Argus gave a glowing account of the project:
THE NEW ROAD -- The new road being built by Mr. Brown is certainly a great improvement. It intercepts the toll road about a mile above Fear's station and runs in a direct line for Panamint and is nearer Bear and Holcomb valleys, and other mining districts, than the old road.

Mr. Brown has had considerable experience in road building and has selected an excellent grade over the summit, perfectly straight, and wide enough for teams to pass each other nearly all the way. The summit is a hard cement formation and has to be blasted. Several cuts are being made and hollows filled, some a long distance. The work was finished in early February, and Brown, in an ebullient mood, said, "I wish...to inform the traveling public that the so-much-talked-of new wagon road through the Cajon Pass, is finished, the last spike driven."
< Previous - Next >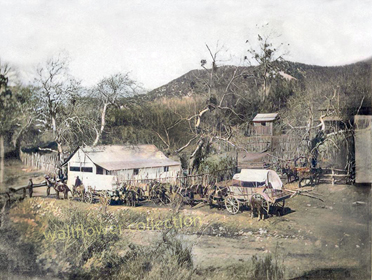 Original upper toll station - 1863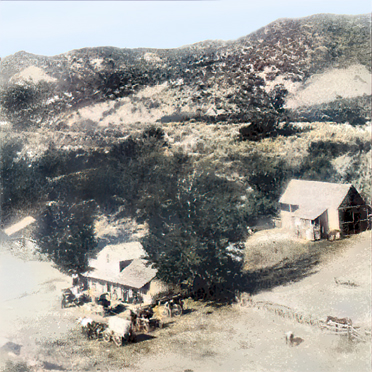 Courtesy Feldheym Library
This toll station at the upper gate was built after the original was destroyed by fire on June 4, 1876 (colorized)


AbeBooks Search