Spanish Explorers : Garces - Crossing the Mojave
Over the Sierra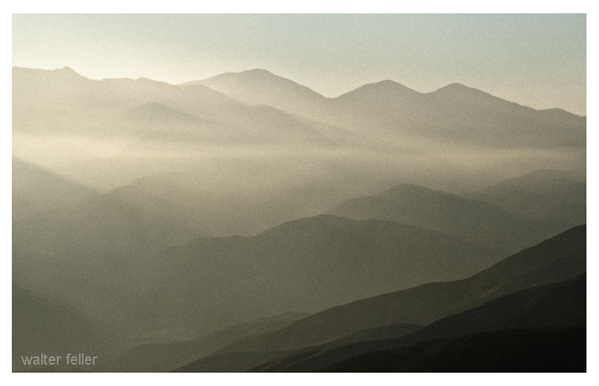 p 246


course to the south and entered into a Canada 20 of much wood, grass, and water; I saw many cottonwoods, alders, oaks, very tall firs, and beautiful junipers (sabinos); and having gone one league I arrived at a rancheria of about 80 souls, which I named (Rancheria) de San Benito. I was received with great joy, and they made me the same obeisance.

Mar. 22. I went three leagues and passed over the sierra by the southsouthwest.21 The woods that I said yesterday reach to the summit of this sierra, whence I saw clearly the sea, the Rio de Santa Anna,


river, with considerable easting as said, passed Huntington's on the river, and then through Bear or Holcomb valley rounded up to the mountains directly north of the San Bernardino valley, and crossed them by the well-known trail into this valley. See notes following.

20 This Canada is the pass through which Garces crossed the mountains, between the San Gabriel and the San Bernardino ranges, from Holcomb's valley into the beautiful one which became the site of the present city of San Bernardino. He is tracing the Mojave river up to its very source, near which is the rancheria he calls San Benito. See last and next notes.

21 Into the San Bernardino valley, which is Garces' Valle de San Joseph, on the upper reaches of his Rio de Santa Anna, which is the present name of this river, commonly in the form Santa Ana. This rises in the San Bernardino mts., runs through the valley just said, and takes a mean S. W. course to the sea at Newport, under Point Lasuen. Garces is about to fall upon the trail of the main expedition, and the names he uses for the river and valley are easily identified by this: see note for Mar. 23.

Previous < Contents > Next


San Bernardino National Forest
Serrano Indians

The territory of the Serrano included the entire San Bernardino range of mountains, west into the San Gabriel mountains to North Baldy (Mt Baden-Powell), south across the San Bernardino Valley and eastward to near 29 Palms and the Oasis of Mara.

San Gorgonio Mountains

Live oak chaparral shrublands, and Mixed chaparral shrublands at lower elevations and on south-facing slopes; Ponderosa pine series and Mixed conifer series at higher elevations;

Upper San Gorgonio Mountains

The predominant natural plant community is Ponderosa pine series. There are small areas of Coulter pine series, ...