Mojave History - Military: Bitter Springs - Fort Irwin
First Inhabitants of Bitter Springs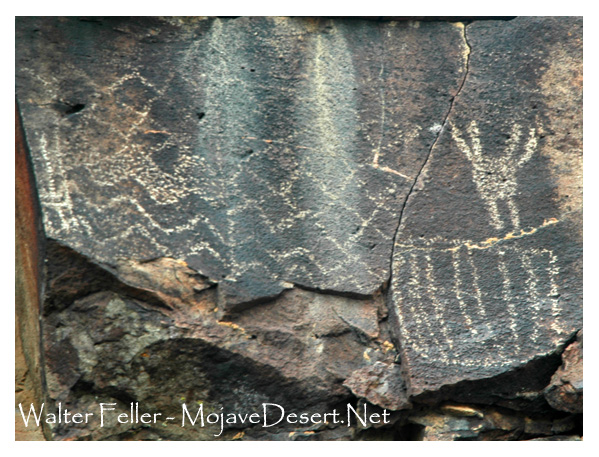 This region is rich with anthropological history dating back, according to some archaeologists, over 15,000 years ago, when the Native Americans inhabited this area around Ice Age (Pleistocene) lakes and river areas. Vegetation and animal life was abundant. Stone flakes caused by percussion produced cores that littered the camps. Atlatl points (throwing spear tips), arrowheads, stone tools, sleeping circles, split-twig animal figures and rock art (mostly petroglyphs) still remain as evidences of their existence. But the actual meanings behind the rock art, still remains unclear.

The real mystery is exactly what happened to these early indigenous people, who like the Anasazi (the ancient ones), disappeared. Theories are that as the water sources dried up and rivers became seasonal, Ice Age mammoths, ground sloths, camels and horses became extinct, and pines, oaks and elderberries retreated to the higher mountains.

Nomadic tribes continued to pass through the Mojave River region with some Uto-Aztecans settling around the waterholes of the desert like Aqua de Tomaso (Bitter Springs) on present day Fort Irwin.

The Uto-Aztecan language group of Native Americans lived in the middle of the Mojave Desert. They were referred to by European travelers as Beneme, Vanyume, Paiute (Pah-Utah, Pai-Ute, Piute) and Serrano. They lived along the Mojave River from the San Bernardino Mountains to Afton Canyon. North of the Mojave River were the Numic Branches of the Uto-Aztecan language group called Paiute, Northern Paiute, Owens Valley Paiute, Koso, Panamints and Shoshoni. Most European/Americans referred to these groups of people as "Paiute" and did not distinguish between bands/tribes.


Native Cultural Profiles
Paleo-Indians
New dating results show that Paleoindians may have reached this area as long as 15,500 years ago. ...
Serrano
Long ago when the world began there were many Indian peoples here on earth. ...
Southern Paiute
The few details available from the very slim written sources of the early historic period contribute ...
Shoshoni
When the long string of gold seekers, borax miners, and other desert explorers began to ...


AbeBooks Search