The First Railroads
L.A. & Independence

Scant physical evidence remains of the L.A. & I. Railroad
Arda Hensel photo - courtesy John Hockaday

In 1874 the Los Angeles & Independence railway, to be built from Santa Monica to Independence, Inyo county, was organized by Governor Downey, F. P. F. Temple and other merchants of Los Angeles, backed by Senator John P. Jones. Several routes were proposed, but that through the Cajon Pass was selected, and San Bernardino was invited to co-operate in the enterprise, and thus secure a route to the sea coast. The road was constructed between Los Angeles and Santa Monica and put into operation in December, 1875. San Bernardino, however, seemed to feel that any road passing through the valley could not skip her, and made no decided move to secure the road. Considerable grading was done on the line this side of Los Angeles and in the Cajon Pass. The Guardian of January 16, 1875, reports, enthusiastically:
"Work has been commenced on the Independence railroad in earnest. A force of forty men. under the energetic Crawford is engaged on the Cajon grade. Mr. Crawford tells us that in a few davs he will be re-enforced by 100 Chinamen. The Southern Pacific people have also a force at work in the Cajon. It seems their object is to head off the Narrow Gauge. Jones, however, is not likely to bluff worth a dollar. Stanford, we believe, declares his intention of building a Broad Gauge, to Panamint, via the Cajon. San Bernardino is certainly looming up in importance to the commercial world. And now, let us avail ourselves of our magnificent opportunities. Let energy, enterprise and liberality be the order of the day with our business men and men of property. And let us all act for the general good."
The Los Angeles & Independence Railway never reached the San Bernardino Valley, however.
Next
The First Railroads
L.A. & Independence
The Southern Pacific
Southern Routes
Southern Pacific
The Santa Fe System
Turning Point
The Proposal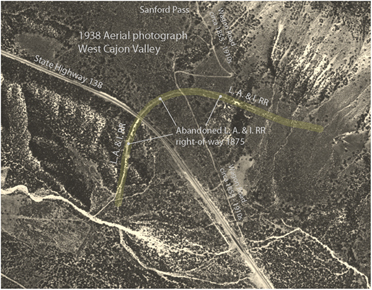 Railroads
Railroad Building
*