Railroads
Nevada Southern Railroad
Entrepreneurs built short line railroads connecting to the trans-desert Santa Fe to serve remote settlements deeper in the eastern Mojave. The Nevada Southern Railway built their line between Goffs and Manvel in 1893 to provide rail transportation to the mining districts.
Three Santa Fe subsidiaries
The first of these was the Nevada Southern Railway, the grade of whose abandoned track north of the Santa Fe is intact and evident today, and a historic ...
Manvel
In December of 1892, Blake began work on a branch line from Goffs: the Nevada Southern Railway. (Goffs would be renamed Blake in 1894.) Most of the route ...
Railroad History in the Mojave Preserve
In 1893, the Nevada Southern Railway was constructed north from Goffs to Manvel, later known as Barnwell, to tap into the mining districts of Southeastern ...
Route 66, Goffs
Goffs was a rail junction from 1893 to 1923 serving both a desert shortline and the ... It was named for Isaac Blake, the builder of the Nevada Southern Railway ...
Railroads of the Mojave Desert
California Southern Railway Carson and Colorado Railroad Death Valley Railroad Los Angeles and Independence Railroad Nevada Southern Railway
Stage lines of the Mojave Desert
Barnwell to Death Valley Route: A route from Barnwell to Manse, Nevada, that for ... from the Nevada Southern Railway end-of-track at Manvel into Vanderbilt.
Historical Mining Towns of the East Mojave
Meanwhile, the Nevada Southern Railway was built into the area, and a railhead was established at Manvel. The veins were small, and the district's two mills ...
History of Goffs, Ca. - ROUTE 66
Called the Nevada Southern Railway, it connected to the A&P rails at Goffs. However, Blake's project — using the Nevada Southern to bring ores from the desert ...
Ranching History in the Mojave Desert
... to form the Rock Springs Land & Cattle Company, with headquarters at Barnwell, the northern terminus of the newly constructed Nevada Southern Railway.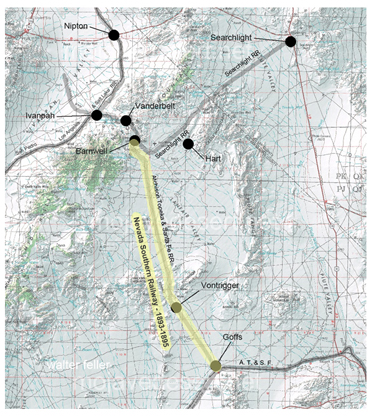 Larger map