Railroads
California Southern Railway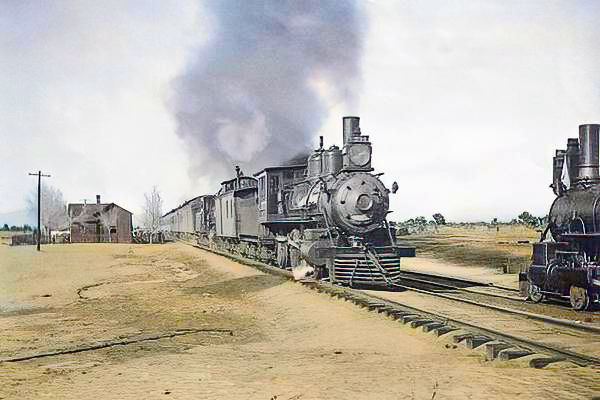 The California Southern Railroad was a "subsidiary" of the Santa Fe Railroad that served between Barstow, CA and National City, CA. The line was completed in November, 1885 and became the western terminus of Santa Fe's line to Chicago. Two critical parts were troublesome; one between Oceanside and Temecula and another between Elsinore (Lake Elsinore today) and Perris. These canyon segments faced washouts from typically dry rivers in narrow canyon passes. Segments of the line still exist from Perris to Barstow and from Camp Pendleton (just north of Oceanside) down to National City.

SDERA / National City Depot Museum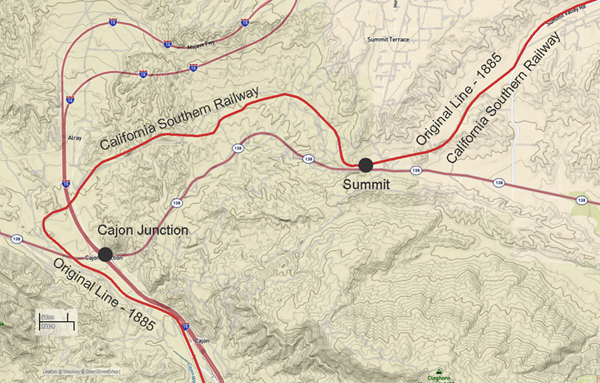 (Excerpts/Notes) Perris and its Railroad
by Richard V. Dodge

Printed in DISPATCHER November 15, 1959 Issue 29

Fred T. Perris, who was in charge of the surveying, and his party were withdrawn from the line location in Cajon Pass and set to work on the Box Springs route. Riverside residents bemoaned "Mr. Nickerson (of the Santa Fe)wags the dog, head and tail, and locates the road three miles out on the barren plain (through Highgrove).

The Atchison, Topeka & Santa Fe Railroad, controlled by Boston capitalists, was headed west. Its rails had reached Albuquerque, New Mexico, in 1880. It was being extended south towards El Paso. The company had formed a partnership with the St. Louis & San Francisco Railway to build the Atlantic & Pacific Railroad on the authorized 35th parallel of latitude route from a junction at the present town of Isleta west to the Colorado River and into California.

Subsidies offered by the towns of National City and San Diego to make San Diego Bay the "Pacific Coast Terminus of the Santa Fe Route" were accepted. The California Southern Rail Road was organized in 1880 to build from National City in a generally northeasterly direction to the town of San Bernardino and on to a connection with the Atlantic & Pacific in California.

In November, J. 0. Osgood resigned as Chief Engineer and Fred Perris was appointed to the position in the following year. After completing the road to San Bernardino on September 13, 1883, Perris again turned his attention to the task of conquering Cajon Pass.

. . .


Fred T. Perris was born in England about the year 1836. His family first moved to Australia and Fred came to the United States in 1852. He worked on the Union Pacific Railroad in the 60's, then settled in San Bernardino in 1874. He was chosen as a delegate in 1880 to the conference with Boston capitalists on the proposed building of the California Southern Railroad. He invited attention to the attractions of the San Bernardino area.

He surveyed all the lines in the Southern California network and equipped the shops.

. . .


Construction progressed on the line between San Bernardino and Barstow. The last spike was driven in the pass on November 9, 1885, joining the California Southern with the Atlantic & Pacific and all points east. Incidentally the Atlantic & Pacific operated over the Southern Pacific track, under a deferred purchase agreement, between The Needles and Mojave, through Barstow.

Mother Nature dealt another staggering blow in February 1891. "All railroads are washed out." About five miles of track in Cajon Pass were destroyed.


In June 1904 the Southern California Railway was leased to The Atchison, Topeka & Santa Fe Railway and complete acquisition of the former was effected in January 1906.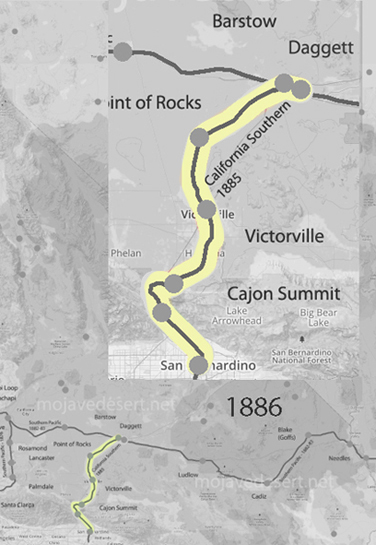 Cajon Pass History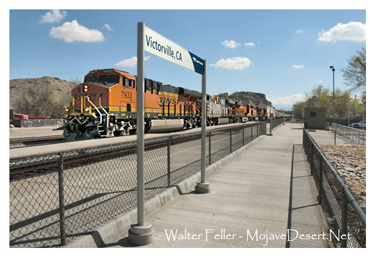 Victorville