Historical Eras:
American Explorers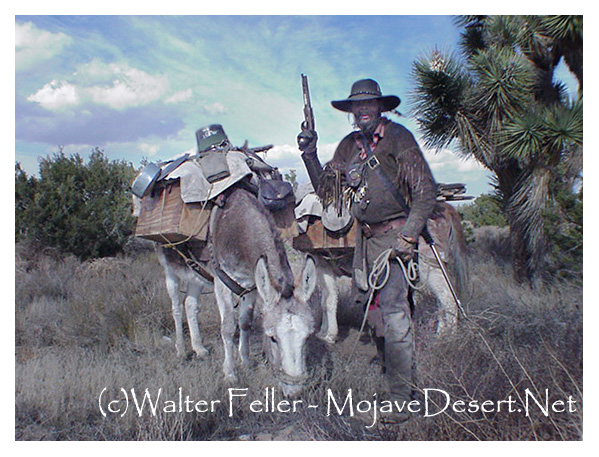 Jedediah Smith used the Mojave Indian Trail to cross the Mojave Desert in 1826. Though tribe members first welcomed the trappers, conflict was not long in coming.

In 1827, another trapping party came through Mojave land, ignoring the tribe's requests for goods in exchange for trapped animals. The resultant conflict left victims on both sides. When Smith returned later that year, his party was also attacked, and for the next 20 years violence reigned, reaching a peak when trappers from the Hudson Bay Company killed 26 Mojaves.

Joseph Reddeford Walker, in 1834 had crossed the northern portions of the Mojave and into the Great Basin Desert searching for a route to Salt Lake city. Traveling through California, Walker and his party saw redwood forests, experienced a major earthquake, and witnessed a meteor shower. Returning east, Walker went down to the southern end of the San Joaquin Valley and traveled through what would become known as Walker's Pass, which, years later was to be one of the main gateways for gold-seekers migrating into California.

The Mojave Indian Trail was used by Kit Carson when he was guide for Captain John Fremont in 1844. Fremont recorded the geology and types of plants as well as making maps of the geography of the region.

The Old Spanish Trail came into the Mojave Desert from the north. It was used as a trade route from Santa Fe to Los Angeles. The two trails met at the Mojave River. << Previous - Next >>

American Explorers

Beckwourth, Jim
Although his activities remain largely unknown during this time Beckwourth became known as a prominent Indian fighter and guide often hired by settlers to guide wagon trains through the Sierra Nevada.

Carson, Christopher "Kit"
Known best as an explorer/mountain man, Kit Carson also was an Indian agent and had a long miliary service record. He accompanied three of the Fremont expeditions as a guide.

Fremont, John Charles
Frémont's Second Expedition was an even greater success. It included many men from his First Expedition, including cartographer Charles Preuss, and Kit Carson.

Ogden, Peter Skene
The expeditions were a successful venture for the HBC, but not without troubles, including an attack by the Mohave near the Gulf of California.

Pattie, James "Ohio"
In 1827 another party of trappers led by James Ohio Pattie marched through Mojave territory, ...

Sitgreaves, Captain Lorenzo
As a lieutenant in the Topographical Engineers, in 1851 Sitgreaves led an exploring expedition over the 35th Parallel Route.

Slover, Isaac
Slover crossed the southwest into California, and helped open overland trading between that province and New Mexico.

Smith, Jedediah
"I wanted to be the first to view a country on which the eye of a white man had never gazed and to follow the course of rivers that run through a new land."

Smith, Thomas "Peg Leg"
Claiming he had discovered a large amount of gold-bearing quartz, Smith sold maps and claims to other prospectors of a mine known as the Lost Pegleg Mine until his death in a San Francisco hospital in 1866.

Walker, Joseph R.
In 1843 he led a group of American settlers to California showing them the pass (Walker's Pass) he had discovered years earlier.

Williams, "Old Bill"
To be sure, Old Bill's life is the stuff from which folk tales are made. Perhaps his best adventure came also as his last in an odyssey filled with stories of misfortune, conflict and suspense

Wolfskill, William
He spent ten years trapping in the New Mexico area, where in 1828 he was made a Mexican citizen. Eventually, he moved west to Los Angeles, opening the Santa Fe Trail to California in the process.

Young, Ewing
Young's journey to California with traveling companions crossed Arizona, the Colorado River, the Mojave Desert and arrived at the San Gabriel Mission, ...


Contents & Introduction
Paleo-Indians
Desert Indians
Spanish Explorers
American Explorers
Pioneers
Military
Prospectors & Miners
Ranchers
Railroads
Homesteaders
Route 66 & Hoover Dam
Modern Communities