Historical Eras:
American Explorers
"I of course expected to find Beaver, which with us hunters is a primary object, but I was also led on by the love of novelty common to all, which is much increased by the pursuit of its gratification."

—Jedediah Smith.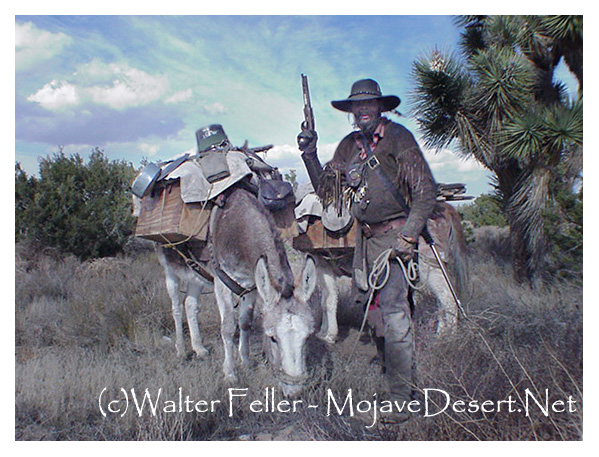 American mountain men crossed and recrossed the East Mojave Planning Unit numerous times in the early period of Mexican control in California. These early American arrivals had a significant and colorful impact on this area, on southern California, and on the nation as a whole.

Jedediah Strong Smith - the first American to reach California overland - came by way of the Mohave villages and the Mohave Indian Trail in 1826. He made a repeat trip in 1827. On the latter trip he was attacked and half his party massacred by the Indians at the Mohave villages. He crossed the planning unit in destitute condition. But the Mohave Trail served him well on both trips. Once embarked on the desert crossing he reached the settlements in Mexican California without further losses.

For the next several years after Jedediah Smith, there was a steady flow of traffic to California via the Mohave villages and the Mohave Indian Trail. These were the original arrivals to reach California from "the States" overland, and hence this is a chapter of the greatest importance to America. For the most part, these early travelers across the Mojave Desert were beaver trappers looking for new untapped fields. Some returned to "the States" and took back some of the earliest stories and descriptions of the "Promised Land" on the California coast. Others stayed in California, married into prominent Mexican families, and became leading citizens. These latter aided significantly in the transformation of California from Mexican to American control during the Gold Rush following the War with Mexico. In addition to Jedediah Smith, the list of early Americans to make the crossing of the planning unit over the Mohave Indian Trail included William Wolfskill, George C. Yount, Christopher "Kit" Carson, Ewing Young, and many other famous trappers.


from;
Background to Historic and Prehistoric Resources of the East Mojave Desert Region
by Chester King and Dennis G. Casebier
Archaeological Research Unit
University of California, Riverside
Prepared for BLM - May 31, 1976


<< Previous - Next >>


Contents & Introduction
American Explorers

Beckwourth, Jim
Although his activities remain largely unknown during this time Beckwourth became known as a prominent Indian fighter and guide often hired by settlers to guide wagon trains through the Sierra Nevada.

Carson, Christopher "Kit"
Known best as an explorer/mountain man, Kit Carson also was an Indian agent and had a long miliary service record. He accompanied three of the Fremont expeditions as a guide.

Fremont, John Charles
Frémont's Second Expedition was an even greater success. It included many men from his First Expedition, including cartographer Charles Preuss, and Kit Carson.

Ogden, Peter Skene
The expeditions were a successful venture for the HBC, but not without troubles, including an attack by the Mohave near the Gulf of California.

Pattie, James "Ohio"
In 1827 another party of trappers led by James Ohio Pattie marched through Mojave territory, ...

Sitgreaves, Captain Lorenzo
As a lieutenant in the Topographical Engineers, in 1851 Sitgreaves led an exploring expedition over the 35th Parallel Route.

Slover, Isaac
Slover crossed the southwest into California, and helped open overland trading between that province and New Mexico.

Smith, Jedediah
"I wanted to be the first to view a country on which the eye of a white man had never gazed and to follow the course of rivers that run through a new land."

Smith, Thomas "Peg Leg"
Claiming he had discovered a large amount of gold-bearing quartz, Smith sold maps and claims to other prospectors of a mine known as the Lost Pegleg Mine until his death in a San Francisco hospital in 1866.

Walker, Joseph R.
In 1843 he led a group of American settlers to California showing them the pass (Walker's Pass) he had discovered years earlier.

Williams, "Old Bill"
To be sure, Old Bill's life is the stuff from which folk tales are made. Perhaps his best adventure came also as his last in an odyssey filled with stories of misfortune, conflict and suspense

Wolfskill, William
He spent ten years trapping in the New Mexico area, where in 1828 he was made a Mexican citizen. Eventually, he moved west to Los Angeles, opening the Santa Fe Trail to California in the process.

Young, Ewing
Young's journey to California with traveling companions crossed Arizona, the Colorado River, the Mojave Desert and arrived at the San Gabriel Mission, ...