Mormons - San Bernardino
Mormon Stockade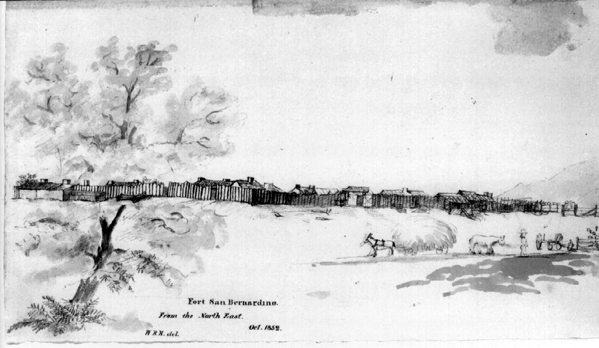 A sketch of Fort San Bernardino by William Rich Hutton in 1852.

From this Mormon stockade, the City of San Bernardino has grown.

A Mormon settlers fort first established in 1851. Upon moving into the San Bernardino Valley Mormons built a 300-by-720-foot, 12-foot-high stockade surrounding the town for protection against Indians. The post, later renamed Fort San Bernardino, soon extended far beyond its original limits. Army troops were briefly stationed here in 1855. The fort was abandoned as a fortification in 1857 when the majority of Mormons were recalled to Utah during the Mormon War. The site is now occupied by the courthouse located on Arrowhead Avenue between 3rd and 4th Streets in the center of downtown San Bernardino.