Mojave Desert History - Pioneer of the Mojave
Lane Versus Andrews
Lane's Crossing Becomes Turner Ranch
Except for Lane's advertisement for the Pioneer Station, the records are silent for the duration of Lane v Andrews regarding the ranch at the upper crossing. The next time the property is mentioned is in the newspapers in 1875, when two sons of San Bernardino hotelier John F. Miller appear on the Delinquent Tax List published in the February 5th San Bernardino Daily Argus.

Joshua Miller and his brother, John Norman Miller (who was incorrectly identified as John F. Miller, Jr., in the notice), were listed as owning quarter section claims of about 160 acres each, with John's parcel being a portion of the original Lane claim. Another portion of the claim was also held by members of the Miller family -- the section that had been disputed by Highmoor.

The property then passed from the Millers to Huldah Pearl and her husband, Alexander Hamilton Pearl, who was an old friend of Lane's from his Amador County days and had testified on his behalf in the pension matter. In 1883 the Pearls sold Lane's 160-acre parcel in Section 30, and another 80 acres in the southern part of Section 31, to Robert Turner for $2500.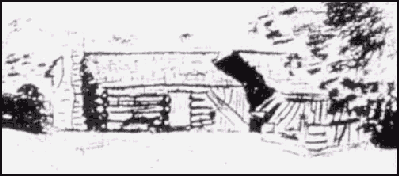 Sam Rogers' Station - "History of Victor District," Courtesy San Bernardino Archives.
THIS STRUCTURE WAS IDENTIFIED AS BELONGING TO SAM ROGERS

The history of Lane's Crossing is a tale of life on the edge of civilization. It was seen as an outpost by the early desert travelers, and was the hub of activity for several years. Passersby were heartened to see the humble station, knowing that within its walls the necessities of life were available.

When Lane began at the crossing he had very modest means, but by the mid-1860s he had increased his holdings to the point where, although not well-to-do, he at least was no longer poor. By 1863 he owned a small amount of stock for breeding or to provide milk and meat for his guests. He had also taken up beekeeping.

Lane was in the forefront of the honeybee enterprise, since the business had only been introduced into San Bernardino County in 1860. The honey would have seemed quite a delicacy out on the desert, and especially would have been a treat for those dispirited by the terrible journey from Las Vegas to the Mojave River.

By 1865 he had a modest herd of a size that would permit him to sell stock, putting him on the road to being the rancher to which he aspired.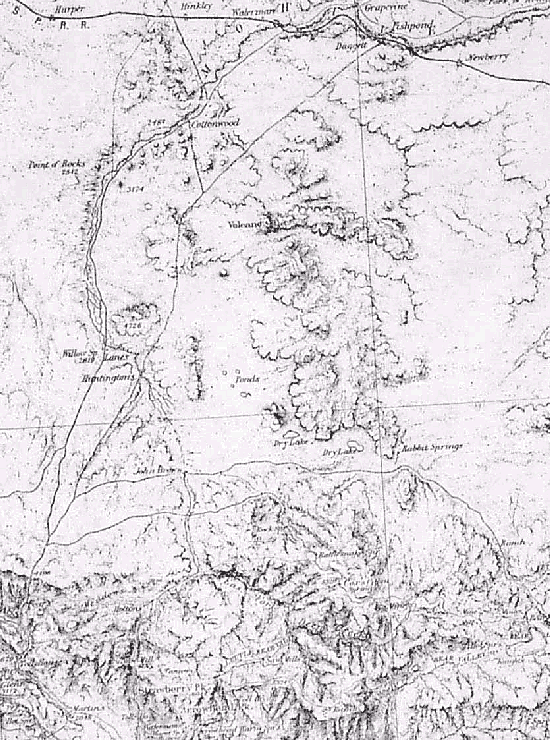 1870's Wheeler survey map - Portion of Lt. Wheeler's Atlas No. 73, surveyed on three separate occasions from 1871-1878
THIS MAP SURVEYED DURING THE 1870'S SHOWS THE ROAD ALONG THE MOJAVE RIVER (LEFT SIDE OF MAP) AND THE WAY STATIONS ON THE ROUTE: LANE'S CROSSING, POINT OF ROCKS, COTTONWOODS, GRAPEVINE, AND FISH PONDS. THE ROAD MECHAM CUT CAN BE SEEN RUNNING SOUTHWEST FROM FISH PONDS (TOP RIGHT OF MAP) TO ITS TERMINUS AT HUNTINGTON'S STATION (LITTLE MEADOWS). ALSO SHOWN IS THE ROAD CONNECTING MECHAM'S ROUTE TO LANE'S CROSSING (LATER PIONEER STATION).

When Aaron moved, interest in events on the Mojave River moved downstream with him. The historic crossroad faded from the pages of the newspapers, and almost 20 years passed before the ranch again catered to travelers on the desert.

When Robert Turner bought the property in 1883 and established an inn, the old crossing came to life once again. Robert's wife, Susan, became renowned for her cooking, and the travelers on the old road began to make a point of stopping at Turner's Ranch.

This revival was brief, however, because when the railroad came to the area two years later, the center of activity switched to the train depot in the new town of Victor. The Turners moved their business enterprise to the town, and the upper crossing slipped back into a rural byway.

< Previous - Next >


AbeBooks Search