Mojave Desert History - Pioneer of the Mojave
Green Gold and Mint Juleps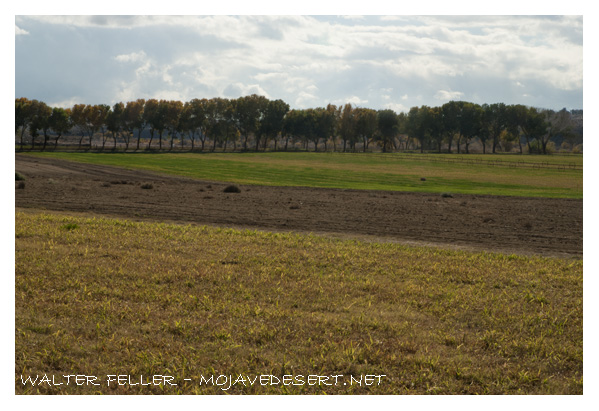 Farmland in Oro Grande

During his years at the upper crossing, Captain Lane, as Aaron was known throughout much of his life in California, had ample opportunity to discover where the richest farmlands lie along the Mojave River. He thus far had grown crops on a small scale to feed his own stock and those of the travelers who stopped at his station, but the ever-increasing traffic on the Mojave Desert meant an opportunity for excellent profits if he could supply hay, barley and other crops in quantity.

There was also a profit to be made in marketing the grasses indigenous to the river. A variety of these grew luxuriantly in the lowland: bottom grass, blue joint, red top clover, and wire and salt grasses. On the benches along the overflow of the river, there was a proliferation of bunch, guyote and sand grasses. Many beefeaters swore that the cattle which fed on these grasses produced the best meat they had ever tasted.
Lane's Ranch in Bryman

The site Lane chose for his new home was a splendid one. He had shrewdly decided to turn his sights to ...

The Move to Bryman was Well-Timed

The timing of Lane's move was excellent on several counts. In the first instance, because of his early arrival ...

Soldiers Maraud the Countryside

Although the military was an excellent customer, bringing business to ranchers all along the Mojave River, the presence of ...

Lane's Ranch Burns Down

Lane maintained a good relationship with Camp Cady throughout this period, and his provisioning of ...

Ranch Washed Out by Floods

No sooner did he recover from the fire, however, than his ranch was washed out by floods ...

The Court-Martial of Lt. Manuel Eyre

Captain Lane continued to supply Camp Cady, but the transactions were not without problems. ...

A Glimpse of Lane's Affable Nature

By the summer of 1868, his prospects for further sales were looking very good. ...

Indians Subdued After Bold Attacks

As Lane states, the Indians were making themselves "mighty scarce" at this time. Hostile activities on ...

Lane's is a Principal Ranch on the Mojave

Even as late as 1871 the Mojave River was considered rather remote. One person took a trip ...

Sells Ranch and Moves Upstream

This December newspaper article was actually out of date; in early November, Lane had sold his ranch to ...
AbeBooks Search