Mining History: Desert Fever

Inyo County:
Tecopa (20th century)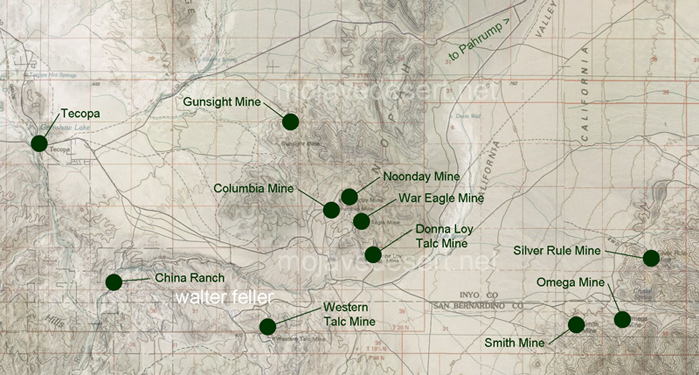 Due in part to the interest generated by Greenwater, the Tonopah and Tidewater had been pushing their railroad through the Amargosa River Canyon in an attempt to pick up on the developing copper camp's business. Although arriving in Tecopa just in time to see Greenwater's collapse, the railroad providently provided the Noonday and Gunsight Mines (owned by the Tecopa Consolidated Mining Company) an outlet for their silver ores. The company quickly shipped a 30-car train of ore worth $40 a ton. By 1910 a standard gauge railroad (The Tecopa Railroad) was hauling ore from the mines to Tecopa station, where high grade values were shipped over the Tonopah and Tidewater and on to smelters at Murray, Utah.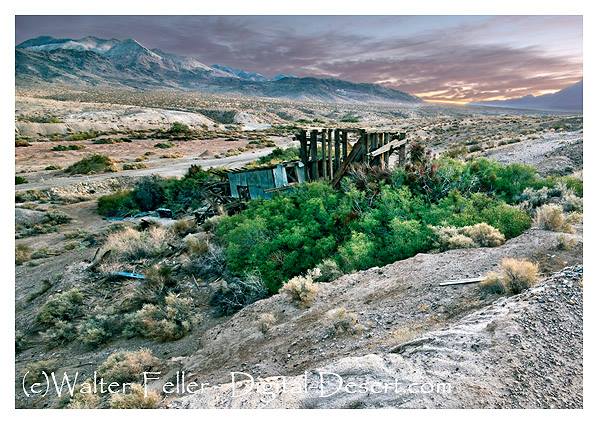 From 1912 to 1928 the Tecopa Consolidated Mining Company produced $3,000,000 worth of silver and lead. After World War II these mines, inactive during the Depression, were purchased by the Anaconda Copper Mining Company, who operated them with a crew of 45 men until March, 1953, when the mine closed down. No high grade ore reserves were found after exploration by the Anaconda company.