Plants:
Mojave Desert Wildflowers
Eastern Mojave Desert in bloom - spring wildflowers bloom in the Eastern Mojave Desert. Blooms on a beavertail cactus, lupine blooming along a roadway, brittlebrush against a mountain backdrop -- these are some of the sights a visitor can expect, depending on how wet or dry the winter season has been. Plants in this area that may produce blooms include desert marigold, sand verbena, desert primrose, globemallow, desert sunflower and milvetch.

Western Mojave Desert includes wildflower-rich areas - "To the casual observer, the Western Mojave Desert may appear to be a barren and lifeless wasteland. However, below the surface, a vast seedbank of annual wildflower seeds lay dormant waiting for just the right weather conditions to germinate and paint the desert in a riot of color." Best viewing is usually mid-March to mid-April, but it all depends on weather.
Wildflower Guides

Wildflower Survival

Desert plants are resilient and their adaptations for surviving desert conditions are diverse and amazing. ...

Wildflower Blooming Periods

Some years the desert is spectacular with wildflowers, other years the blossoms are sparse. ...

Assorted Wildflower Photos

Photo slideshows of wildflowers in various locations throughout the Mojave Desert and mountain forests.

Wildflower Glossary

Glossary of wildflower related terms.

El Niņos & Wildflowers

El Niņos and displays of spring-flowering annuals in the Mojave and Sonoran Desert.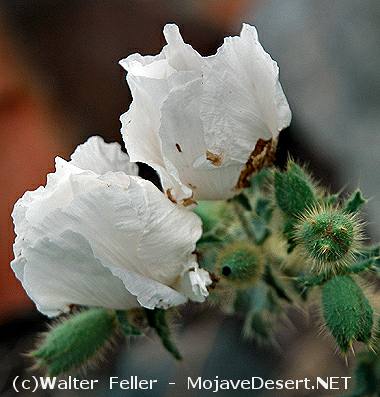 Prickly Poppy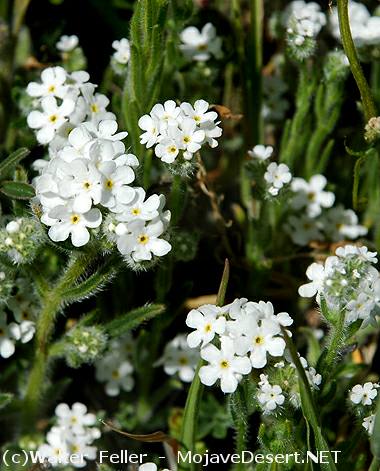 Little White Forget-Me-Nots