Ecology:
Mojave Desert Plants
Trees
Joshua tree, juniper, mesquite, fan palm, cottonwood, ...
Shrubs
Bushes, brush, bunches of sticks, twigs, and oddly enough, yucca...
Cactus in the Mojave Desert
Desert Wildflowers
Wildflower lists, photo guide, widflower survival, photos ...
Other & Miscellaneous
Geographic Area
Plant & Wildflower Glossary
Ecosystem Subsections
An area or region of land designated for study purposes that has distinct geology, landforms, soils, flora, and fauna that ...


Ecosystem Habitats
Specific tree and shrub dominated habitat types including mountain areas
Desert Habitats
Many variables -- elevation, moisture, soil composition, exposure to the sun and shelter from the wind create habitats...
Adaptations
The Mojave's plant species have developed ingenious physiological adaptations that allow them to thrive in such a harsh environment.
Example Adaptations
Several examples of the way plants have adapted to the desert.
Plants and How Indians Used Them
In the desert, Indians found native plants and other natural objects that not only ensured their survival ...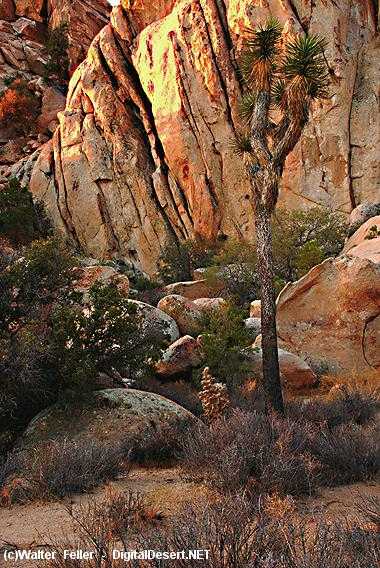 Yucca Clone Rings
The Mojave yucca, (yucca schidigera) can sprout from seeds when fertilized by the yucca moth, or...



Plant Glossary