Mojave Desert Plants: Shrubs
Rabbitbrush
Chrysothamnus viscidiflorus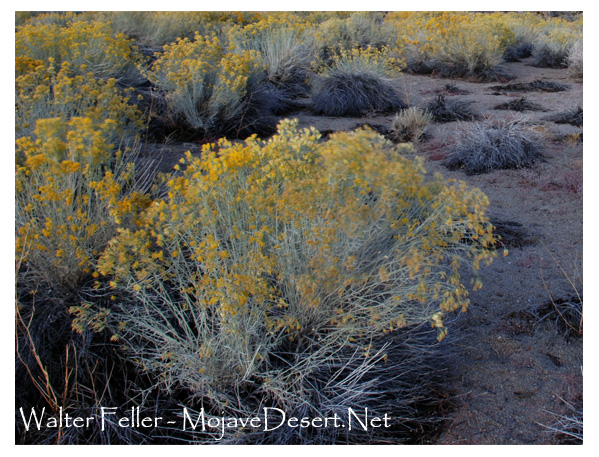 GENERAL DISTRIBUTION:

Yellow rabbitbrush is one of the most widely distributed shrubs on rangelands throughout western North America. It occurs from British Columbia south to southeastern California and east to North Dakota, Arizona, New Mexico and Texas.

HABITAT TYPES AND PLANT COMMUNITIES:

Chrysothamnus viscidiflorus subsp. lanceolatus grows with big sagebrush (Artemisia tridentata), snakeweed (Gutierrezia spp.), and other rabbitbrush (Chrysothamnus spp.). Chrysothamnus viscidiflorus subsp. puberulus is most commonly found in big sagebrush communities with other subspecies of low rabbitbrush, as well as with salt-tolerant species such as halogeton (Halogeton glomeratus), shadscale (Atriplex confertifolia), and winterfat (Krascheninnikovia lanata). It is occasionally found with pinyon (Pinus spp.) and juniper (Juniperus spp.). Most common in sagebrush (Artemisia spp.) and pinyon-juniper. It is associated with salt-tolerant shadscale, halogeton, and winterfat at lower elevations. Chrysothamnus viscidiflorus var. stenophyllus is usually found in sagebrush communities on poor soils and disturbed sites. It also grows in more saline areas.


Ethnobotanic Uses

Chrysothamnus viscidiflorus (Hook.) Nutt. Green Rabbitbrush; Asteraceae

Paiute Drug (Cold Remedy) Infusion of crushed leaves taken for colds. Train, Percy, James R. Henrichs and W. Andrew Archer 1941 Medicinal Uses of Plants by Indian Tribes of Nevada. Washington DC. U.S. Department of Agriculture (p. 57, 58)

Paiute Drug (Cold Remedy) Infusion of crushed leaves taken or used as a wash for colds. Kelly, Isabel T. 1932 Ethnography of the Surprise Valley Paiute. University of California Publications in American Archaeology and Ethnology 31(3):67-210 (p. 197)

Paiute Drug (Cough Medicine) Decoction of young growth taken for coughs. Train, Percy, James R. Henrichs and W. Andrew Archer 1941 Medicinal Uses of Plants by Indian Tribes of Nevada. Washington DC. U.S. Department of Agriculture (p. 57, 58)

Paiute Drug (Diaphoretic) Branches used as a bed in the sweatbath for rheumatism. Train, Percy, James R. Henrichs and W. Andrew Archer 1941 Medicinal Uses of Plants by Indian Tribes of Nevada. Washington DC. U.S. Department of Agriculture (p. 57, 58)

Shoshoni Drug (Antirheumatic (External)) Poultice of moistened, crushed stems and leaves applied for rheumatism. Train, Percy, James R. Henrichs and W. Andrew Archer 1941 Medicinal Uses of Plants by Indian Tribes of Nevada. Washington DC. U.S. Department of Agriculture (p. 57, 58)

Shoshoni Drug (Misc. Disease Remedy) Hot compound decoction of plant taken for influenza. Train, Percy, James R. Henrichs and W. Andrew Archer 1941 Medicinal Uses of Plants by Indian Tribes of Nevada. Washington DC. U.S. Department of Agriculture (p. 57, 58)

Shoshoni Drug (Toothache Remedy) Finely mashed leaves inserted in tooth cavities for toothaches. Train, Percy, James R. Henrichs and W. Andrew Archer 1941 Medicinal Uses of Plants by Indian Tribes of Nevada. Washington DC. U.S. Department of Agriculture (p. 57, 58)

Paiute Food (Candy) Roots used as chewing gum. Mahar, James Michael. 1953 Ethnobotany of the Oregon Paiutes of the Warm Springs Indian Reservation. Reed College, B.A. Thesis (p. 115)

Yavapai Fiber (Brushes & Brooms) Stems used to brush off spines on fruits. Gifford, E. W. 1936 Northeastern and Western Yavapai. University of California Publications in American Archaeology and Ethnology 34:247-345 (p. 257)

Paiute Other (Tools) Peeled stems used for piercing ears in preparation for wearing earrings. Mahar, James Michael. 1953 Ethnobotany of the Oregon Paiutes of the Warm Springs Indian Reservation. Reed College, B.A. Thesis (p. 115)

Source - University of Michigan