People in Mojave Desert History - Indians
Chief Tecopa
(1815-1904)

Before the white man the Pauite Indians did well in the areas surrounding Las Vegas by trading and sharing the harsh lands surrounding the valley. Chief Tecopa was the leader of the Ash Meadows, Pahrump, and Shoshone/ Tecopa area band of Southern Paiute.

"Tecopa," is a Paiute word meaning "wildcat."

A Native American Indian leader, Chief Tecopa (Teca-Avats) became famous as the keeper of the peace of the "Ni-Wi" Paiutes. Born in 1815, Tecopa was known for wearing a bright red suit with gold braid and a silk top hat. He lived until 1904-1906 was buried with his son and grandson upon his death. Tecopa survived the Anglo-Saxon migration in the Southern Basin region of Nevada and fought with vigor to save their land and his traditional way of life. He soon realized however that if his people were to survive and prosper he would have establish peace and harmony with the foreigners. Hence his moniker, the great peace maker.

(Tecopa Cemetery brochure)

He fought to save the land of his people and its traditions, but, as time went on his people struggled in the desert. He learned that it would be easier to live along the white man and tried to maintain peaceful relationships with them. The white man brought clothing, food, staples the Paiute people could make use of. He became known as a peacemaker.

Tecopa usually wore a bright red band suit with gold braid and a silktop hat. The story goes that local white miners out of gratitude for Tecopa's help and diplomacy, would replace his duds when they wore out.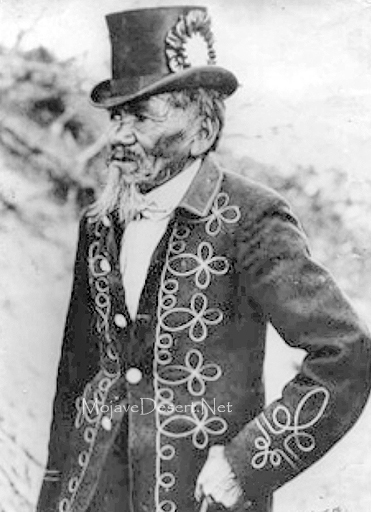 Chief Tecopa
Tecopa, CA
.