Names in Mojave Desert History
Captain Jefferson Hunt
January 22 1804 – May 11 1879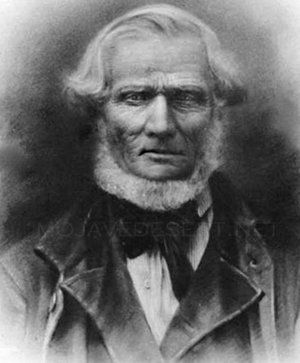 Hunt guided several parties of gold prospectors from Utah to California. Many of the pioneers he led in the 1849 Mojave San Joaquin (Mojave Sand Walking) Company, became impatient and decided to try a shortcut which would cut several weeks off their travel time. Although most of those who abandoned the company later rejoined Hunt, those who continued on their own path lost their way and became the Lost Death Valley '49ers.

He was called by his church in 1851 to help create a Mormon settlement in San Bernardino, California.

Timeline of History of the Mojave Desert
1849 A portion of the Hunt Wagon party, while looking for a shortcut to the gold fields, becomes the first Caucasians (Lost 49'ers) to cross Death Valley ...

Pioneers in the Mojave
The leader of the group, Captain Jefferson Hunt, would only . ... Hunt guided several parties of gold prospectors from Utah to California. ...

Mormon Pioneers
Captain Jefferson Hunt ... their way and became the Lost Death Valley '49ers. He was called by his church in 1851 to help create a Mormon settlement in San ...

History of the Cajon Pass
A year later Captain Jefferson Hunt, familiarized with the trail by this trip was contracted to lead a party of goldseekers across the desert and down ...

Chronology of expeditions between New Mexico and California
...Jefferson Hunt is a member. This shows direct influence of mountain men in ... February -- Hunt and other Mormons return to Utah from California on Old ...

Death Valley's Lost 49er's
The leader of the group, Captain Jefferson Hunt, would only go as fast as the slowest wagon in the group. Just as the people were about to voice their ...

Death Valley in '49
Chapter 9
Hunt came back from the front and said they had better turn back to the old trail ... Hunt said: "You all know I was hired to go by way of Los Angeles, ...

Chapter 11
This sporting trip was quite different from deer hunting in Wisconsin, and nothing like looking for game in Death Valley where nothing lived. ...

Chapter 13
The Mormon elder, John Hunt, was consulted, and as he seemed to know the general southern route better than any one else, he was prevailed upon to guide the ...

Chapter 14
Hunt, a Mormon, to pilot us through, and turned all our gold into that company, thus bringing none of the Mormon gold with us. We went on with the company ...

Chapter 15
I may have quoted a part of the speech Capt Hunt made when the party wanted ...... Helms was now going to the valley to have a winter's hunt, for here the ...

Chapter 16
Hunt, of San Bernardino (our guide from Salt Lake in 1849), ..... Hunt, the man who was hired in the fall of 1849 to bring the big train from Salt Lake to ...
Mormon Battalion
Jefferson Hunt, a member of the party and a former Captain in the Mormon Battalion, ... Captain Jefferson Hunt. Captain in the Mormon Battalion - Led the ...

Gold - Silver in Them Thar' Hills!
During one of the 1849 crossings, a member of the Hunt's party noted the rock formations and mineral contents along the way. Gold was found on the northern ...

William Lewis Manly
The Bennett-Arcane party had split off from Jefferson Hunt's, "Mojave Sand-Walking Company", in search of a short-cut to the gold fields in northern ...


Jefferson Hunt Father of San Bernardino County
The Founding of San Bernardino County The territory now included in San Bernardino County was still a portion of Los Angeles County in 1851 when the colonists of Latter Day Saints purchased the San Bernardino ranch property. The county seat was at Los Angeles, sixty miles from San Bernardino and the boundaries extended eastward to the Colorado River. Thus, while the settlement of San Bernardino was thriving and growing, its people were handicapped by the distance necessary to travel to the county seat, where all official business had to be transacted, and it was to obviate this inconvenience that Capt. Jefferson Hunt, who in 1853 had been elected one of two members to represent Los Angeles County in the State Legislature, was instructed to present a petition to that body asking for a division of Los Angeles County, the newly created county to take its name from the Rancho de San Bernardino. In complying with this request, the legislature, in session at Benecia, April 26, 1853, passed "An Act for dividing the County of Los Angeles and making a new county therefrom to be called San Bernardino County."

HISTORY OF SAN BERNARDINO AND RIVERSIDE COUNTIES
JOHN BROWN, Jr. Editor for San Bernardino County