Mojave Indian Ethnography & Ethnohistory
Traditional Territory
In the Claims Case, the Mojave claimed the following:
All of the Mojave Valley of the Colorado River, extending north to the Black Canyon in said river, extending south to the Mojave Mountains; extending east to the highest crest of the Black Mountains, to the Buck Mountains and to the Mojave Mountains; and extending west to the Sacramento Mountains, the Dead Mountains, and to the Newberry Mountains.

All of the lands on both banks of the Colorado River extending from the midstream of said river back on either side of said river, to the crest of the mountain; bordering on said portion of said river and extending north to the Mohave Valley in said river, and extending south to a point below what is now known as and called the City of Blythe, in the County of Riverside, State of California.

All of that part of what is now known as the Mojave Desert in the State of California, extending east to the land above described located on the Colorado River extending south to the Whipple Mountains, the Turtle Mountains, the Granite Mountains, the Eagle Mountains, the little San Bernardino Mountains, the San Bernardino Mountains; extending west to the San Gabriel and Tehachapi Mountains, and extending north as far as the Granite, Soda Lake, Providence and New York Mountains, including the valley now known as Paiute Valley extending north into the State of Nevada (U.S. Court of Claims 1950-1960: Docket 283) [CSRI emphasis].

While the Mojaves centered their activities along the Colorado River, where they practiced agriculture in the flood plain, they maintained an active trading relationship with the Serrano and the peoples of the coast, and traveled through the Project Area on a fairly regular basis. They hunted the game in the area and gathered plant products on occasion. After European contact, they supplemented their other resources by raiding the mission and Mexican rancheros for cattle and horses and may have come through what is now the Joshua Tree National Park on some of these raids.


<< Previous << Contents >> Next >>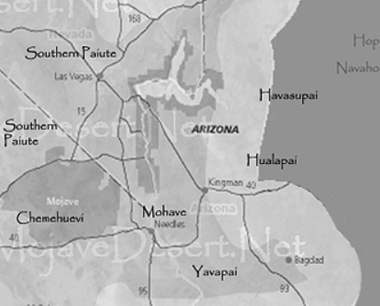 Mojave Indian Territorial Map

About the Territory:
California Geomorphic Region
... naturally defined geologic regions that display a distinct landscape or ...
Mojave Desert Ecosection
Widely separated short ranges in desert plains. Contains isolated mountains, plateaus, alluvial fans, playas, ...

Paiute Valley Ecosubsection
... steep to very steep mountains, gently to moderately sloping pediments and alluvial fans, and nearly level ...

Colorado River Region Wilderness
Dead Mountains
... the Dead Mountains runs north to south and is a jagged, steep, rust-colored range crowned ...


Chemehuevi Mountains
These mountains transform gradually from almost white granite to dark red and gray volcanic ...


Whipple Mountains
The landscape is diverse, ranging from valley floors and washes to steep-walled canyons, domed peaks and eroded spires ...

Colorado River