Mojave History - Military: Bitter Springs - Fort Irwin
First Visitors to Bitter Springs
Father Francisco Garces
The first recorded contact with the local Native Americans was through Father Francisco Garces, a Spaniard, as he traveled the Mojave Indian Trail in 1796 while exploring what was being called "New Spain". Father Graces noted the current (activity) campsites and several older abandoned camps belonging to the Anasazi. He followed the migration/trade routes of the Paiuti, which belonged to the Uto-Aztecan language grouping in the Vanyume region. He noted on his map, Aqua de Tomoso "Water of Thomas" in honor of Thomas, one of his guides. Father Garces made no indication to its taste. Today we call the site, Bitter Springs due to the alkaline in the soil and water.

NOTE: A walking path made by humans would generally be 12"-14" wide and would travel the path of least resistance as possible from water source to water source.
Jedediah Smith, Mountain man
Jedediah Smith was a mountain man who traveled in search of new fur trapping sources. He was an early explorer always in search of "what might be on the other side of the mountain". After Smith's return from what was known as Mexico (California) back into what was known as New Mexico (Nevada), more pioneers passed through this region traveling the Old Spanish Trail as it was being called, between Santa Fe (New Mexico) and Pueblo de los Angeles (Los Angles, California). He stopped in 1826 and again in 1827, at Aqua de Tomoso (Bitter Springs) because it was a necessary water source in spite of its bitter taste.
Historical Profiles
Fr. Francisco Garcés
In 1775, Garcés, became the first European to meet the Mojave Indians, who accompanied Garcés ...
Jedediah Smith
Jedediah Smith was a young, religious, mountain man traveling more miles of unexplored ...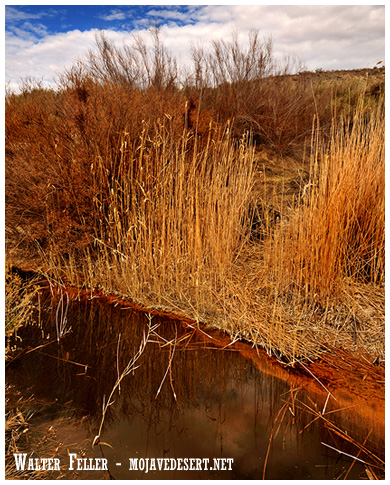 Bitter Springs