TOP -- A B C D E F G H I J K L M N O P Q R S T U V W X Y Z


BADLANDS - A region of barren land characterized by roughly eroded ridges, peaks, and mesas with sparse vegetation.


Also see:

MALPAIS, EROSION, MESA

Usage:

Gower Gulch Loop, Death Valley Day Hikes
Description : Colorful badlands, canyon narrows, old borax mines. Hike up Golden Canyon to marker #10, then follow trail over badlands to Zabrieski Point or ...

Death Valley National Park
This valley is also a land of subtle beauties: Morning light creeping across the eroded badlands of Zabriskie Point to strike Manly Beacon, the setting sun ...

Nopah Range Wilderness
Mountains, alluvial fans, badlands, playas, plains, washes and hills unfold in harmony here. Creosote bush scrub cacti, yucca and other desert shrub species ...

El Paso Mountains Wilderness
Badlands topography surrounds Black Mountain, the central feature of this wilderness. The most spectacular attribute of this area is the abundance of ...

Desolation Canyon, Death Valley Day Hikes
Description : Narrow canyon through colorful badlands. From the road's end, head east to the main wash draining from the south. Hike up canyon, keeping to ...

Death Valley Wildlife
In between are sand dunes, canyons, alluvial fans, badlands, rocky ridges, and spring-fed wetlands. Vegetation zones include creosote bush, desert holly and ...

Long Gone Lake, Golden Canyon
A Recipe for Badlands; It's All Downhill; Silt and clay deposits at left, conglomerate on right ...

Zabriskie Point - Death Valley
The colorful badlands of Golden Canyon provide incredible panoramic sunrise and sunset vistas where the rich colors of the landscape change every second. ...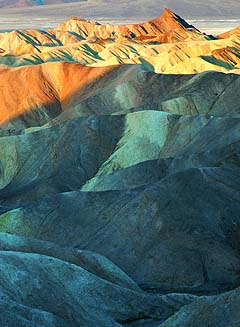 The Badlands of Golden Canyon as seen from Zabrieski Point, Death Valley National Park