TOP -- A B C D E F G H I J K L M N O P Q R S T U V W X Y Z


MESA - A broad, flat-topped elevation with one or more steeply-sloping to vertical sides.

Also see: BUTTE

More information:

Malpais Mesa Wilderness
Malpais Mesa, Mojave Desert Wilderness. ... To the east, gently sloping bajadas rise to meet the rugged volcanic lava flow of Malpais Mesa. ...

Clipper Mountain Wilderness
NATURAL RESOURCES: This wilderness encompasses a large mesa with surrounding canyons and hills to the southeast. Tracing the old World War II trail 7 miles ...

Rodman Mountains Wilderness
A lava flow slices this area in two from northwest to southeast, forming a sloping mesa. Colorful escarpments, calico-colored mountains, maze-like canyons ...

Grand Canyon natural environments
Some caves are well known and, over the years, have been frequented often by visitors, such as the Cave of the Domes on Horseshoe Mesa. ...

Petroglyphs
In a quiet crook in a canyon along a mesa in the east Mojave, this site has borne witness to countless aboriginal rites of fertility and coming of age. ...

El Paso Mountains Wilderness
NATURAL RESOURCES: Numerous reddish-colored buttes and dark, uplifted volcanic mesas dissected by narrow canyons distinguish this wilderness. ...

Stream Terraces and Older Surfaces - Mojave Preserve
...In the context of this discussion on the Mojave region, older surfaces represent flattened areas (plateaus, mesa, uplands areas, hillside benches) that are ...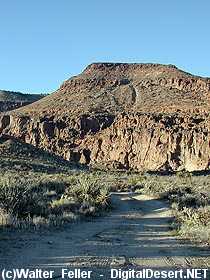 Mesa in the Mojave Preserve