Books, Journals & Diaries
On the Frontier:
Marl Springs
The supply of water at this camp ground is very limited, but it is not as limited as it is nasty.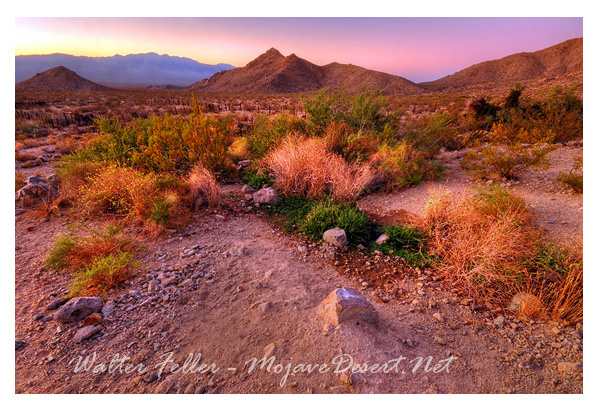 The "springs," forsooth! are a shallow puddle, and two deep narrow holes in the ground. To get water out of them, the men let buckets down with ropes, and haul them up hand over hand. The first half-bucketful -.- do ingenuity or cunning of hand will bring a bucket up full -.- is covered with a thick slime, the next is muddy, then it gets worse until it is half mud, and it will take thirty minutes for the water to collect again. To water a large party is impossible; to water a small one, laborious and tiresome.

This water is said to be very wholesome. It is most certainly nasty. It is tepid, slightly bitter, and, even after standing all night in a vessel to settle, thick and discoloured. I cannot say what its washing qualities are -.- it is too scarce to be wasted for such a purpose ; but, if so used, would probably make a man slightly more dirty than he was before.

< Previous - Next >
Marl Springs in the Mojave Desert
Marl Springs, however, continued to be an important station on the travel route across the Mojave Desert also serving as the site for several trading posts.

Indians Subdued After Bold Attacks
As Lane states, the Indians were making themselves "mighty scarce" at this time. Hostile activities on the desert had ...



AbeBooks Search