San Bernardino County Mining History
Ivanpah
Later Mining History of the Mescal Range, Ivanpah Mountains and south Clark Mountain
Kokoweef Caves
Paul Patchick in 1961 summed up the history of the Kokoweef Caves. His description is reproduced here in full:

In the 1920s a miner named E. P. Dorr explored a cave high-up the side of Kokoweef Peak. Later, in a sworn affidavit, Dorr reported an amazing discovery - and a lost mine legend was born. Deep under Kokoweef Peak, he said he found a swiftly flowing subterranean river; lining its banks were sands rich in gold.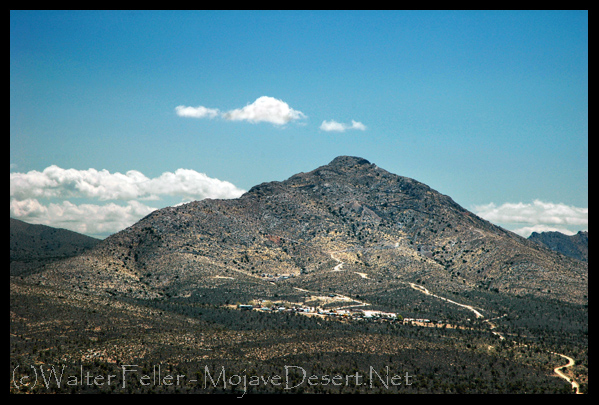 Kokoweef Peak

The legend grew. "Facts" became scarce. The cave entrance was dynamited shut...there were stories of Dorr going insane, of murdered men, of men buried alive, of rich assay sheets.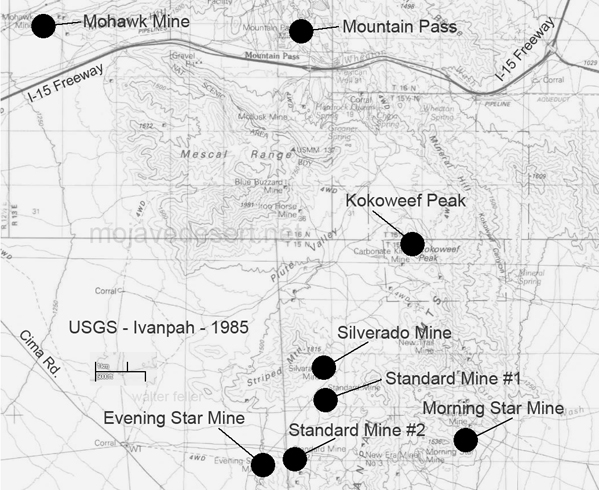 Some sources say the main cave chamber has several entrances on the flanks of the peak. In his book, Adventure is Underground William R. Halliday reports that the Crystal Cave Mining Corporation now owns the property. Would-be lost mine hunters are not welcome. Besides, the danger to all but the best trained and equipped cave-explorer is extreme. Two persons lost their lives here in 1959.

In 1988 Bob Ausmus wrote a less cynical, updated history which appeared in The Friends of the Mojave Road, Guide to the East Mojave Heritage Trail, Ivanpah to Rocky Ridge. Although the Kokoweef Caves have not yielded the much advertized river of gold, a paleontological treasure has been uncovered. Bob Reynolds of the San Bernardino County Museum during the 1970s excavated remains of Pleistocene age animals including brush ox, dire wolf, large and small camels, horses, marmots, bats, shrews and birds.
AbeBooks Search