Names in History
Gram Parsons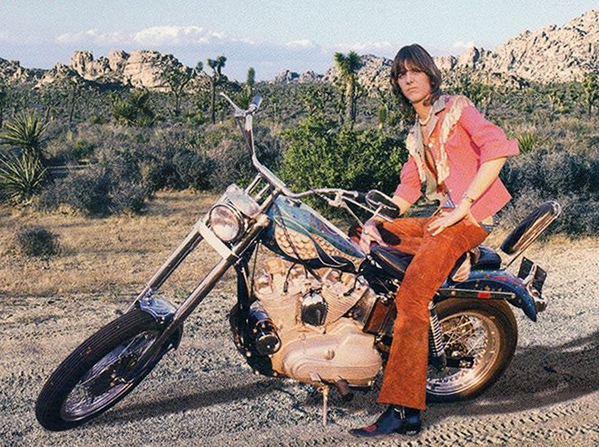 Ingram Cecil Connor III (November 5, 1946 – September 19, 1973), known professionally as Gram Parsons, was an American singer, songwriter, guitarist and pianist. Parsons recorded the Byrds and the Flying Burrito Brothers, International Submarine Band and as a solo artist.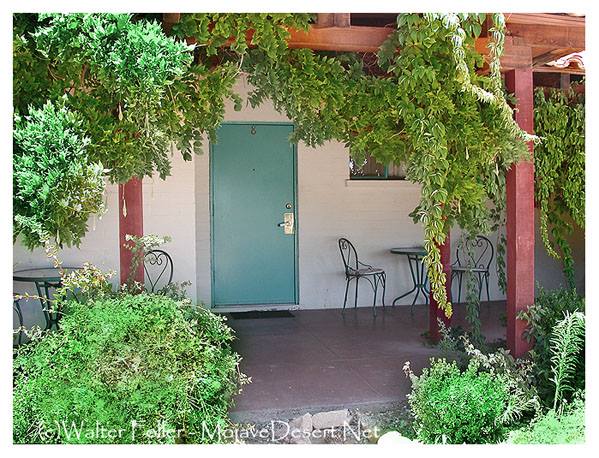 Gram was found dead, in Room 8, at the Joshua Tree Motel in Joshua Tree, California. The coroner first reported his death was by natural causes pending autopsy.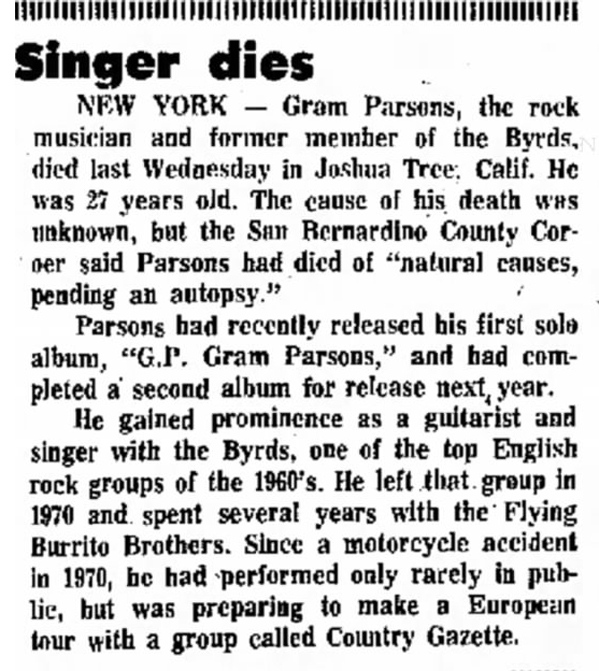 Later, it was discovered the the singer had died from overdosing on a combination of various drugs and alcohol.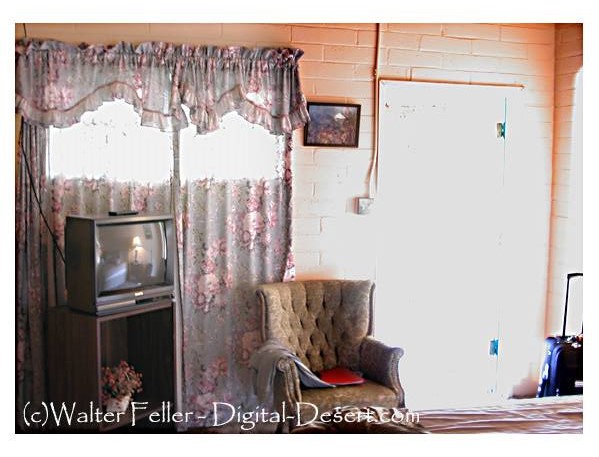 Gram had told his friends that when he died he would like to buried in the Joshua Tree Monument.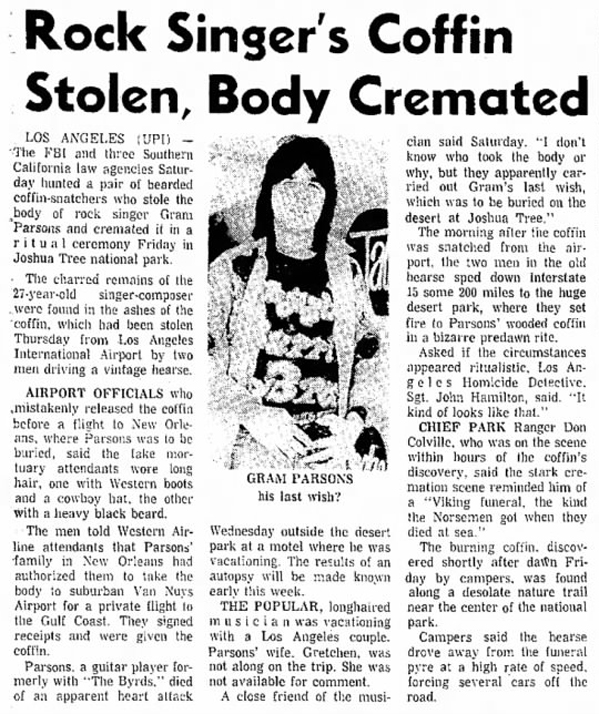 Two of his friends stole Gram's body from the airport as it was waiting to be shipped home to his family.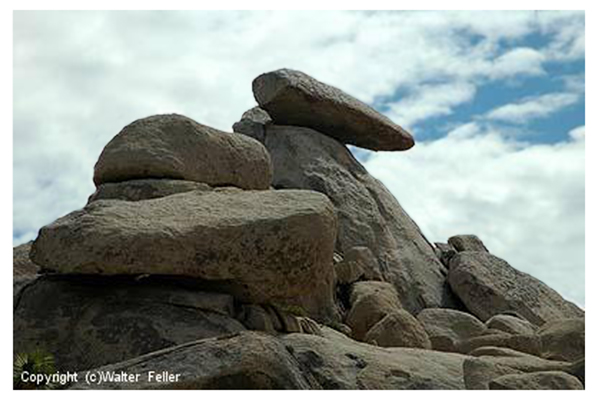 They took the wooden casket cotaining Gram''s body to Joshua Tree National Monument (now Joshua Tree National Park), at Cap Rock, setting it on fire resulting in a partial cremation.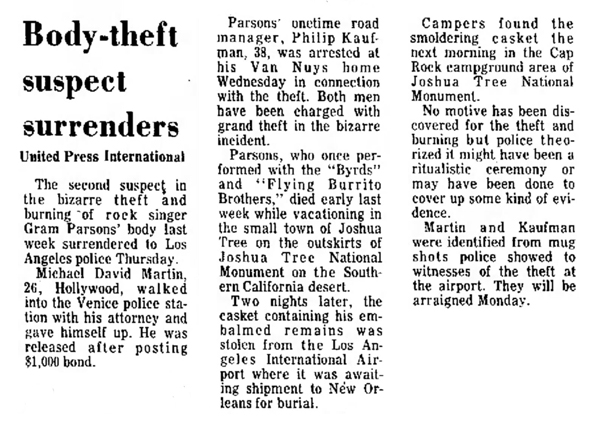 The body was discovered by authorities after a call from campers reported a log burning at the location.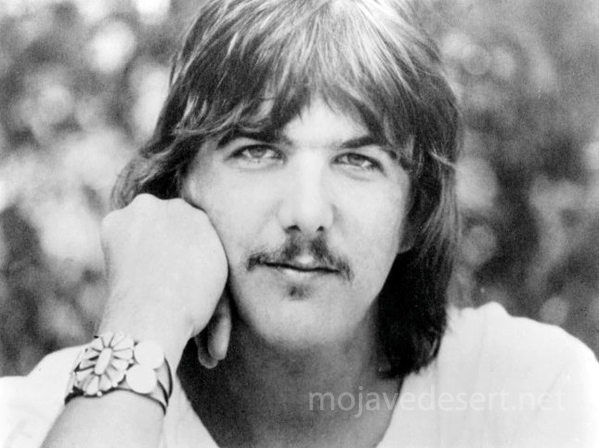 One of body snatchers turned himself in and that led to the arrest of the second.


The Death of Gram Parsons
The influential American musician Gram Parsons passed away on September 19, 1973. Born November 5, 1946, in Winter Haven, Florida, Parsons was a talented singer-songwriter and a significant figure in country rock.

Parsons' musical career began in the mid-1960s when he formed the International Submarine Band. Although the band didn't succeed commercially, it laid the foundation for Parsons' future endeavors. He later joined The Byrds and played a crucial role in creating their influential album, "Sweetheart of the Rodeo."

However, with his next project, The Flying Burrito Brothers, Parsons truly made his mark. The band released their debut album, "The Gilded Palace of Sin," in 1969, which showcased Parsons' unique blend of country, rock, and soul. The album was met with critical acclaim but failed to achieve significant commercial success.

Tragically, Parsons' life was cut short at 26 due to a drug overdose. He was staying at the Joshua Tree Inn in Joshua Tree, California when he was unresponsive in his room. Despite efforts to revive him, Parsons was pronounced dead on arrival at the hospital. The exact circumstances surrounding his death remain disputed, as his body was stolen and cremated per his wishes.

Gram Parsons' death marked the end of a promising career and left a void in the music world. His influence, however, continued to grow posthumously, with artists such as Emmylou Harris and The Rolling Stones paying tribute to his work. Parsons' impact on the country rock genre cannot be overstated, and his legacy lives on through his timeless music.

In conclusion, the death of Gram Parsons on September 19, 1973, was a tragic loss for the music industry. His unique musical style and contributions to the country rock genre continue to inspire musicians today. While his life was short-lived, his influence and legacy have endured, solidifying his place as one of the greats in American music history.