Profiles in Mojave Desert History
Dale Evans
---
Dale Evans: A Trailblazer in the Entertainment Industry

Introduction:

Dale Evans, an iconic figure in the entertainment world, left an indelible mark on millions. With her multifaceted talents and unwavering spirit, she captivated audiences worldwide.

Early Life and Career Beginnings:

Dale Evans was born in Uvalde, Texas, on October 31, 1912. From an early age, she loved singing and acting. However, her path to fame was not without hurdles. After a tumultuous childhood, Evans found solace in her music and performed on local radio stations. Her captivating voice and charismatic stage presence soon caught industry professionals' attention, opening doors for her in the entertainment world.

Rise to Stardom:

Dale Evans' breakthrough came in the 1940s when she signed a contract with Republic Pictures. She starred in a series of successful Western films, often portraying strong and independent women. Evans quickly became a household name and a role model for aspiring actresses. Her performances showcased her versatility as she effortlessly transitioned from dramatic scenes to comedic moments, leaving audiences spellbound.

Collaboration with Roy Rogers:

One of the most significant chapters in Dale Evans' career was her collaboration with Roy Rogers, a renowned actor and singer. The duo starred in numerous movies and television shows together, such as "The Roy Rogers Show." Their on-screen chemistry and undeniable talent made them a beloved couple in the entertainment industry. Their partnership extended beyond the silver screen, as they also recorded hit songs together, including the iconic "Happy Trails."

Advocacy and Philanthropy:

Dale Evans used her fame as a platform to advocate for important causes. She ardently supported charitable organizations, particularly those focused on children's welfare. Evans' philanthropic efforts aimed to improve the lives of underprivileged children, and she consistently used her influence to raise awareness and funds for various causes close to her heart.

Legacy:

Dale Evans' impact on the entertainment industry cannot be overstated. Her talent, resilience, and genuine personality endeared her to audiences worldwide. She broke barriers and shattered stereotypes, paving the way for future generations of female entertainers. Even after her passing in 2001, Evans continues to inspire countless individuals with her determination and trailblazing spirit.

Conclusion:

Dale Evans' contributions to film, music, and philanthropy have left an indelible mark on the industry. As we reflect on her extraordinary life, let us remember Dale Evans as a trailblazer, a role model, and a true legend of the entertainment world.
---
Roy Rogers
Apple Valley, Ca.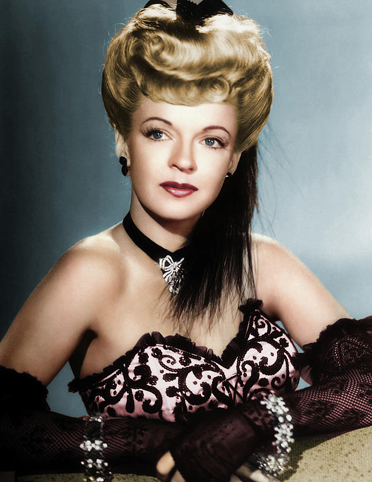 Frances Octavia Smith

Dale Evans was born Frances Octavia Smith on October 31, 1912. In 1954, however, when she requested a copy of her birth certificate to apply for a passport, she discovered that it listed her given name as Lucille Wood Smith and her birthdate as October 30.