Mojave Desert History - Pioneer of the Mojave
Part-time Prospector
Silver Mountain becomes Oro Grande
Following the completion of his duties as road overseer, the Captain returned to his mining pursuits. Lane's (Silver Mountain) Mining District remained active under that name, or variations thereof, throughout the 1870s. In 1876 it was identified as one of 20 mining districts in San Bernardino County. It was not until four years later, with the formation of a new district, that the name was changed.

On February 16, 1880, eleven high desert prospectors met for the purpose of discussing the organization of the new district. The parties concerned were Alexander Hamilton Pearl, John J. Atkinson, Aaron G. Lane, George Decrow, Asa Lane (Aaron's nephew), William W. Bemis, J. C. Riley, Sam Rogers, Abner J. Spencer, James Waldrip and Manuel Lawrence.

A second meeting was held on March 27, 1880, during which Pearl was elected president and Spencer, secretary. The boundaries also were established for the district: commencing at the "old Stoddard crossing" of the Mojave River, they ran east to Rabbit Springs, then north to the river to the old Panamint crossing (two miles downstream of Cottonwoods), west to the county line, southwest to Rock Creek Canyon, and then east to the point of beginning. The prospectors dropped the word "Lane" from the name of the district at this meeting, calling it simply the Silver Mountain Mining District.

As it turned out, the official name of the district was inconsequential, because a new mine was located, called the Oro Grande, whose name eclipsed that of Silver Mountain. The Oro Grande was recorded on August 30, 1880, just a few days after the Oro Fino, located about one-half mile away.

These mines were to become two of the biggest producers of the district. Their names translate to the mining terms of "coarse gold" and "fine gold," and the name Oro Grande was so pleasing to the prospectors, and to everyone else for that matter, that it almost immediately supplanted the name of Silver Mountain.

The two mines, along with others recently located in the district, became part of the newly-formed Oro Grande Mining Company. By early 1881 there was a bustling little community by the side of the Mojave River, consisting of Ed Johnson's general merchandise store, two butcher shops, a hotel managed by Mrs. Wilson, a lodging house, several small residences, and the mining company's assay office, general office, and mill.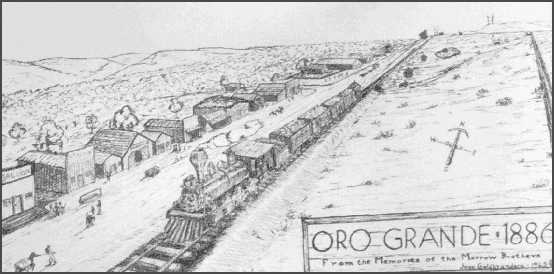 Goldbrandsen collection, courtesy Victor Valley College
BESIDES THE EARLY BUILDINGS OF ORO GRANDE, THIS DRAWING LOCATES THE FLUME (AT RIGHT) THAT CARRIED WATER FROM THE MOJAVE RIVER TO PROVIDE POWER FOR THE MILL, SHOWN ON THE HORIZON

< Previous - Next >


AbeBooks Search