Mojave Desert History - Pioneer of the Mojave
Lane Versus Andrews
Two New Roads Open Up
Mecham's Road from Fish Ponds
The settlement of Lane v Andrews in 1869 freed the upper crossing property for resale, but at that time changes occurred that would affect the value of the ranch, and it was likely Lane had to settle for something less than the price agreed to by Andrews. The value of the property had been dependent, to a great extent, upon its location along one of the main roads into Southern California, but in the late 1860s a rival road was put into place, and it took away some of the commerce that made the crossing such desirable real estate.

The opening of the new road was a private endeavor by a desert resident named Lafayette Mecham, who operated a station at Fish Ponds. Lafayette's son, Frank, later wrote of the project and stated the road was established in order to transport hay:

In 1867 my father...got a contract to furnish 100 tons of hay for Camp Cady. He broke a road from the Fish Ponds thru by way of what is now Stoddard's Well and into the Little Meadow -- now Victorville -- where we cut and stacked the 100 tons of hay.




Fish Ponds station as drawn by Lafayette's grandson, Harold B. Mecham

Mecham evidently had decided that rather than transporting the forage over the river route, which formed a large arc, it would be easier to break an entirely new road running northeast-erly from the "Little Meadow." In addition, besides being shorter, the new route had the advantage of being on solid ground, whereas the Mojave River road passed through some sandy areas in or near the river bottom.

Not long afterward, Sheldon Stoddard dug a well along the route, which eliminated one of the major objections to its use and made it a very desirable shortcut. The road came to be referred to first as Stoddard's Well Road, then Stoddard's Wells, and finally, as Stoddard Wells Road.
The Road Connecting Mecham's Route to Lane's Crossing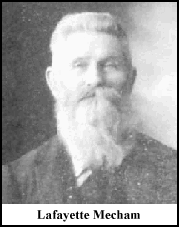 Though historians have been unable to verify Frank Mecham's claim that his father built the road in 1867, there is evidence that the road was in use at least by the latter part of 1868. In October of that year Lane began running an advertisement for the upper crossing ranch in which he claimed he had the best hay and barley on the river at what he had aptly renamed Pioneer Station.

The station was located, he said, along a "new road" on the west (some would call it south) side of the river. This second new road was a connection between Mecham's road and Lane's Crossing (Pioneer Station), which today is roughly the alignment of "D" Street, National Trails Highway and Turner Ranch Road.

< Previous - Next >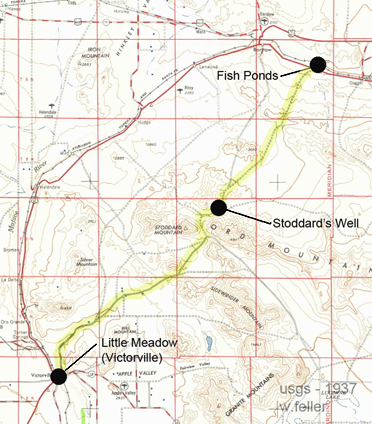 Mecham's direct route between Fish Ponds & Little Meadow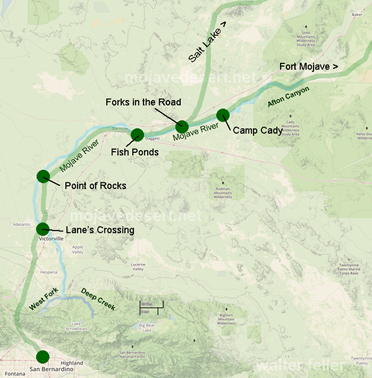 The roundabout Mojave River road.