Mojave Desert History - Pioneer of the Mojave
Riding Out the Civil War
Lane's Neighbors Fend Off Indians
It was at this time that the desert Indians launched a significant attack directed at these citizens. On November 14th, Nicholson and the heads of the other three households downstream, together with three men named Daniel Cline, F. M. Moffatt and John H. Haven, all signed a hurriedly written plea for help to Sheriff Benjamin F. Mathews:


To the Sheriff of San Bernardino County -- We the settlers of Mohave River, do sincerely petition to the Citizens of this County for help to drive the Indians off, as they are here in considerable numbers at Camp Cady. They are killing stock of all Brands.

We had a fight with them yesterday Evening. They all appear to be armed with good guns and fight desperate.The Citizens of Camp Cady are all at the forks of the Road assembled for self protection.
Mathews received the letter the next day, and sent a notarized copy to the commander of Drum Barracks in Wilmington, Colonel James F. Curtis of the 4th Infantry, California Volunteers. Mathews also wrote a cover letter stating he had no other knowledge of the incident, because the person who delivered the letter had received it from someone else at midnight and he had not bothered to ask the messenger for any particulars of the raid. He added that a small group of armed citizens was preparing to leave in the morning, of a size "sufficient I think to keep the Indians at bay until Government Troops can arrive."

Neither Aaron Lane, nor Pleasants and the other cowboys, were listed on the petition. Just who finally did run the Indians off -- the local citizens' militia or the military -- is unknown, as no further details could be found on the episode.

< Previous - Next >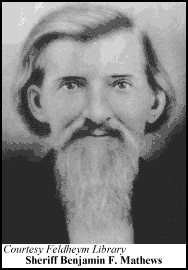 AbeBooks Search