Mojave Desert History - Pioneer of the Mojave
Riding Out the Civil War
Elusive Sucessionists
Upon hearing the news, Judge A. D. Boren wrote the recently-promoted Colonel Carleton in some alarm, as he had learned a secessionist movement was afoot in the area. Boren stated that "Mr. James Leonard was on the Mojave and reports having seen twenty-two armed secessionists and conversed with them, and reports them gentlemen in appearance and bearing, and well outfitted." After receiving several such reports, Carleton sent a dispatch to Major David Fergusson, the commander of Camp Carleton, directing him to send troops in search of secessionists in the vicinity of Lane's Crossing:
You are at liberty to send Captain Fritz with thirty good men over to Lane's on the Mojave to arrest the secessionists reported as being in that neighborhood. Let him take eight days' rations of subsistence. He can doubtless get barley and hay of Lane.

Give him sealed orders, not to be opened until he gets to Lane's. In these instruct him very carefully what to do. He is not at all reticent. His men need only know they are to march. Unless you take these precautions, and send the party by night, runners will carry intelligence of your movements by trails across the mountains in advance of the party.
If the officers involved made any reports on the outcome of the foray, they were not published in the Official Records of the War of the Rebellion, nor were there any newspaper articles announcing the capture of the secessionists, so this may have been yet another futile mission; either there were no rebels, or they had managed to elude the military.

Meanwhile, orders also had been issued for the arrest of Samuel Kelsey, the secessionist agitator from Holcomb Valley. Captain Davidson went after him but was unsuccessful, which prompted Colonel Carleton to write, "It is to be regretted that you allowed Kelsey to slip through your fingers." So Kelsey escaped for certain, and it is possible he took this last reported band of secessionists with him.

< Previous - Next >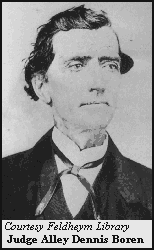 AbeBooks Search