Mojave Desert History -
Opening the Mojave River Trail
The opening of the Mojave River Trail segment of the Old Spanish Trail was embodied in the history of the trappers. This dauntless breed of men moved around the West like a dynamic tide flooding into all the un-trapped hunting areas. They risk their lives for the chance of netting $200-$1000 a year, and for adventure.

by Clifford Walker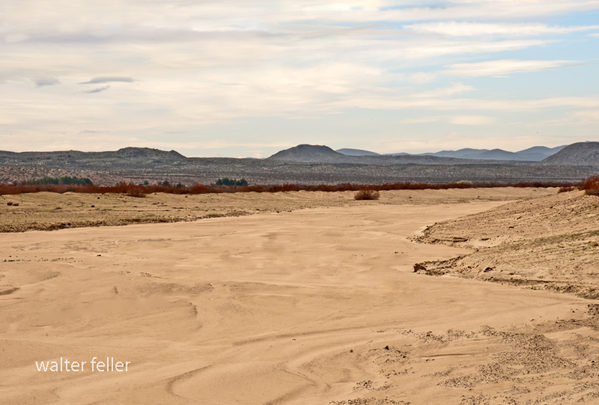 Dry Mojave River at Hodge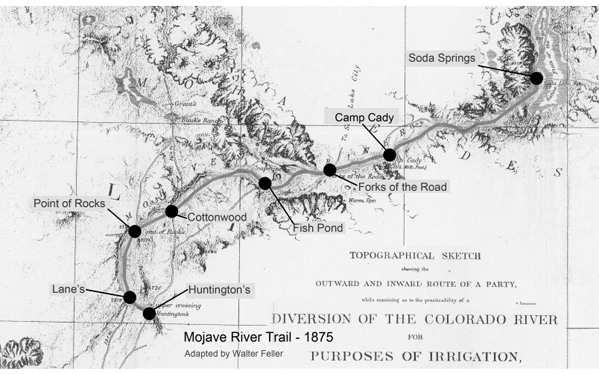 Map of the Mojave River Trail - 1875
Independence
When Mexico finally gained independence in 1821, she assumed some of the same ...
Barring Indian Interferences & Other Calamities
Small fortunes could, nevertheless, be made if the trapper found a hitherto ...
Successful Trading
He remained with the Mohave for 15 days, recuperating and trading for supplies. ...
Mission San Gabriel
After the peaceful 15 days rest, Smith secured guides and crossed the Mojave Desert ...
This Other Ilustrious Group
Although the records are vague, this assemblage of beaver men was probably ...
The Chastised Mohave
... meanwhile, had less than six months to wait to vent their vengeance ...
Another Band of Beaver Hunters
Here he was told of the attack on Smith's party. The Yuma Indian, ...
Deception
Young and 40 men, including Kit Carson, had left Taos in August, 1829, with ...
Other Movements through the Mojave
Some expeditions have been verified by the records, while other ...
Finding a New Route
The first recorded use of the route was made by New Mexican traders who ...
The Race for Profits
Governor Chavez was pleased with Armijo's success. ...