Spanish Explorers : Garces - Crossing the Mojave
Another Beneme Rancheria
p 243


position in 34° 37'.17 This day there came five Jama- jab Indians who were returning from San Gabriel from their commerce, and very content to have seen the padres, who had given them corn; they imitated the bleating of calves.

Mar. 18. Sevastian returned without mishap, praising the kind reception that had been given them [himself and his companion] by the Indians whom they had seen; and thereupon I went five leagues southwest up river,18 and arrived at a rancheria of some 40 souls of the same Beneme nation. Inasmuch as I observed that I was going below (bajaba) the 35th degree, I entreated the Indians that they should take me toward the west; but with all the insistency that I urged I could not succeed, and they





11 Regarding the observation of 34° 37' see beyond, p. 306, at date of May 19, when Garces returns to the river.

" We have recovered Garces' mileage, and we have him safe enough on the river. From what he says of his southwest course, and his anxiety at finding himself going so far below lat. 35°, I should suppose him to be somewhere between Grapevine and Cottonwood. From Camp Cady to Grapevine (Jacobi's) is about 25 miles; at 11 miles of this distance is a point called Forks of the Road, where a road to Salt Lake City branches. Most of the way is along the left bank, north side of the river; then comes a stretch off the river, which is regained at a place called Fish Pond; whence it is four miles further to Grapevine. The railroad now crosses the river in this vicinity, between stations Fish Pond and Waterman. I was last there in Dec., 1891.

Previous < Contents > Next

Editor's Notes:

Waterman Junction eventually became Barstow, California.

Fish Pond, being located in the Mojave River, washed away and into history during a flash flood in the 1930s.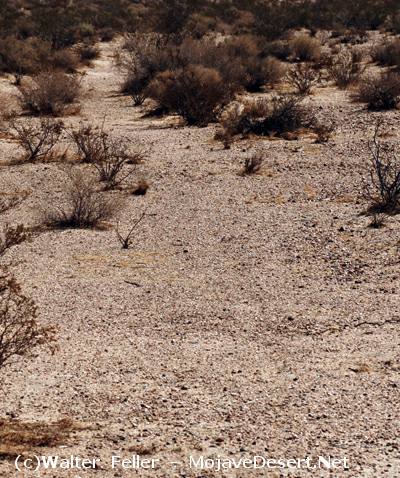 The Old Spanish Trail
"... a point called Forks of the Road,"
This faded mule trail near Forks of the Road, may possibly be the trail Fr. Garces traveled along.