San Bernardino County Mining History
Ivanpah
Later Mining History of the Mescal Range, Ivanpah Mountains and south Clark Mountain
Standard Camp
In 1896 the California Mining Bureau reported that the Ivanpah Mountains were the scene of active prospecting for gold-copper ore. During this revival, the Excelsior Mine was located by Joseph Nelson and Gus Moore of Manvel, and eventually a 124-foot deep incline shaft was sunk. A mine camp known as Copper Camp was established here.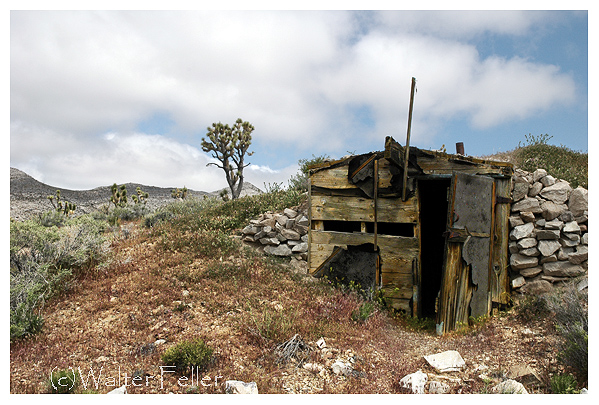 Cabin at Standard Camp

Nine years later in the summer of 1905 the mine was leased from Nelson for a 10-year period by the Standard Mines Company of Los Angeles. The mine from then on was known as the Standard Number 1 or the Standard and work soon began here and on the nearby Standard Number 2.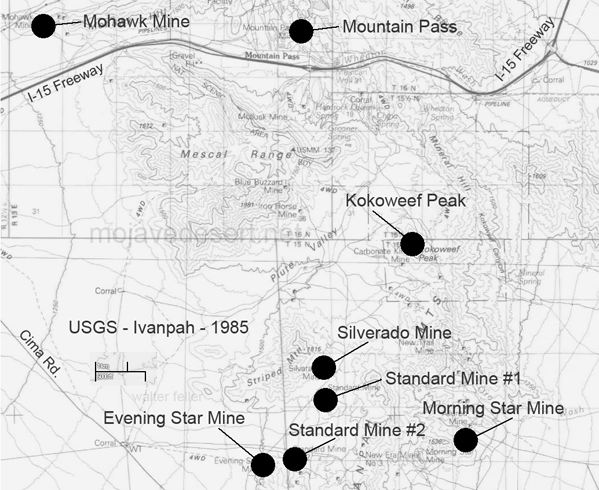 The company spent $25,000 sinking a two-compartment shaft and constructing a camp consisting of a bunk house and boarding house sufficient to house 100. The camp had a store and even telephone service. Wagons pulled by 16-horse teams hauled ore ten miles to the railroad at Cima, then the Salt Lake Railroad shipped it to smelters at Salt Lake City. The mine was productive 18 months, yielding 60 railroad car loads of ore, worth a total of $68,000, that averaged 9.2 percent copper and about $4 in gold and silver. By December 1906, the mine was tied up in litigation. The August 1907 American Mining Review reported, "The mine has been stripped of practically all ore that was developed, and is now closed down owing to exceptionally bad management."

Despite this bleak assessment, in September 1907 two shifts were again working the mine which continued to produce sporadically until 1919 when it was abandoned.
AbeBooks Search