Cactus in the Mojave Desert
Beavertail Cactus
Opuntia basilaris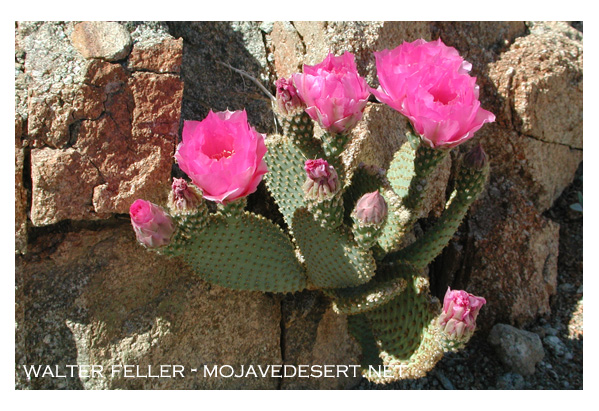 Flat green to purplish heart-shaped pads, spineless but with numerous bristles (glochids). Two to three inch wide magenta flowers cluster at top of pads in March through June. Pads appear wrinkled in drought conditions. Grows on rocky slopes up to about 6,000 feet elevation.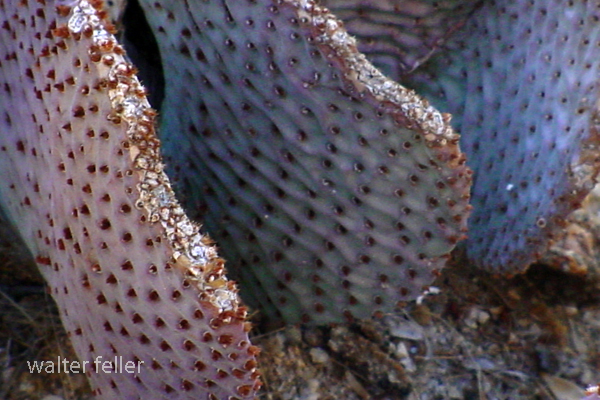 Plants at Hoover Dam/Lake Mead
The beavertail cactus looks like the prickly pear, but does not have long spines. It has tiny hair-like spines instead. (More abouth the Beavertail Cactus). CHOLLA ...

Desert Tortoise - Desert Wildlife
Beavertail Cactus Opuntia basilaris. This species is common throughout the desert. Tortoises enjoy eating the juicy pads and the magenta-colored flowers of this ...

Plants in Death Valley
The cactus species most commonly seen are cottontop barrel, silver cholla, and beavertail cactus. Engelmann hedgehog cactus are locally abundant above ...

Cactus
Unlike the Sonoran Desert, the cacti species found here, such as silver cholla, Opuntia echinocarpa, and beavertail, Opuntia basilaris, are few and far between.

Cactus - Bajada Nature Trail
Still, some desert animals manage to eat the succulent beavertail (Opuntia basilaris), and birds nest among the prickly spines of many cholla species ( Opuntia ...

Grand Canyon Plants
Some of the common catus species found in the park are the California barrel, fishhook, beavertail, desert prickly pear, claretcup hedgehog, Englemann ...

Plants in Zion
Utah beavertail - Opuntia basilaris aurea. Dollarjoint cactus - Opuntia chlorotica. Cliff prickly-pear/old man - Opuntia erinacea. Whipple cholla - Opuntia whipplei ...

Wildflowers, Mojave Desert
From Ludlow to Needles, to Searchlight to Nipton and through the Mojave Preserve returning to Ludlow. Primrose, Mojave Aster, Beavertail, Creosote and more.

Desert Animals found in the Valley of Fire
Several cactus species, including beavertail and cholla, are also common. The springtime bloom of such plants and wildflowers as the desert mallow are often ...

Silurian Valley - Devil's Playground: Mojave Desert Ecological ...
Silurian dry lake. Silver Lake dry lake. Beavertail cactus, Soda Lake ...

Pencil Cholla Cactus: Desert Wash: Indian Cove
Other cacti you might see near here: Beavertail (flattened pads covered with minute barbed hairs) (Opuntia basilaris). Hedgehog Cactus (low rounded heads ...

Big Bear Adventures
Western Diamondback Rattlesnake Shrubs/Plants Creosote Bush Mojave Yucca Prickly Pear Cactus Sagebrush Hedgehog Cactus Beavertail Cactus Trees ...

Pink and Lavender Blossomed Death Valley Wildflowers
List and photos of common pink and lavender wildflower ...

Common Plants and wildlife
Western Diamondback Rattlesnake Shrubs/Plants Creosote Bush · Mojave Yucca · Prickly Pear Cactus Sagebrush Hedgehog Cactus · Beavertail Cactus Trees ...