Cactus in the Mojave Desert
Barrel Cactus
Ferocactus cylindraceus var. lecontei

The accordion ribbing of this cactus can expand or contract with the amount of water it is holding. These ribs are covered by numerous red spines. The barrel cactus will grow from one to four feet tall and live anywhere from 20 to 30 years. The taller barrel cactus tends to bend toward the south.

Yellow flowers, about two inches in diameter, appear in late spring and early summer in a ring around the top of the cactus.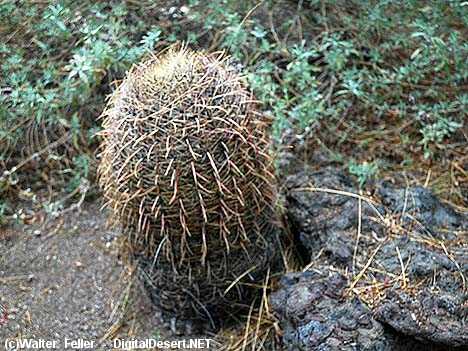 Plants at Hoover Dam/Lake Mead
Drawing of Barrel Cactus Perhaps the most recognized cactus in Las Vegas is the barrel cactus. It is not hollow, as many believe, but has a spongy pulp inside.

Plants in Death Valley
The cactus species most commonly seen are cottontop barrel, silver cholla, and beavertail cactus. Engelmann hedgehog cactus are locally abundant above ...

Cleghorn Lakes Wilderness
Barrel cactus "gardens" and "smoke trees" inhabit some washes. The Lakes offer occasional spring wildflower displays, and Crucifixion Thorn has been found ...

Mazourka Canyon Route Guide
Also look for barrel cactus, whose dense spines provide the plant with cooling shade along with the more obvious forms of protection. Pinyon pines and juniper ...

Desert Bighorn Sheep - Natural Science: Joshua Tree
... centuries sheep have moved between water sources. When water holes dry up , bighorn survive by eating succulent plants like barrel cactus. Since the 1970s ...

Grand Canyon Plants
Cacti are flowering plants with green, fleshy stems which have a waxy coat to ... catus species found in the park are the California barrel, fishhook, beavertail, ...