"Pegleg" Smith
That Old Rascal, Pegleg Smith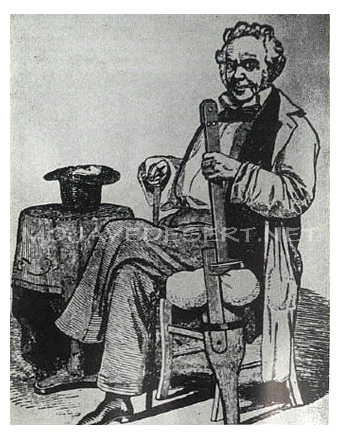 Harry Oliver's DESERT RAT SCRAP BOOK
Caruthers Knows His DEATH VALLEY And Peg Leg, Too
From William Caruthers new book, "LOAFING ALONG DEATH VALLEY TRAILS."

Many have written of the big sink, but "Loafing Along Death Valley Trails" has an intimate personal touch that can come only from one who knows his subject.

I just have to gather all I can on that old rascal, Pegleg Smith. Because You see, I'm his press agent. Signed, Your Ed.

Pegleg Smith made Resting Springs, on the edge of Death Valley, his headquarters for the greatest haul in the history of California horse stealing and reached Cajon Pass before the theft was discovered. These horses were driven into Utah and there sold to emigrants, traders and ranchers. Smith may be said to be the inventor of the Lost Mine, as a means of getting quick money. The credulous are still looking for mines that existed only in Pegleg's fine imagination.

Thomas L. Smith was born at Crab Orchard, Kentucky, October 10, 1801. With little schooling, he ran away from home to become a trapper and hunter, and following the western streams eventually settled in Wyoming. He married several squaws, choosing these from different tribes, thus insuring friendly alliance with all.

He had been a member of Le Grand's first trapping expedition to Santa Fe and was an associate of such outstanding men as St. Vrain, Sublette, Platte, Jim Bridger, Kit Carson, the merchant Antoine Rubideaux (properly Robedoux) of St. Louis. He spoke several Indian languages and earned the gratitude of the Indians in his area by leading them to victory in a battle with the Utes. Able and likeable, he also had iron nerves and courage. His morals, he justified on the ground that his were the morals of the day.

J.G. Bruff, historian, whose "Gold Rush — Journal and Drawings" is good material for research, met Smith on Bear River August 6, 1849, and wrote in his diary: "Pegleg Smith came into camp. He trades whiskey." Actually he traded anything he could lay his hands on.

While trapping for beaver with St. Vrain on the Platte, Smith was shot by an Indian, the bullet shattering the bones in his leg just above the ankle. He was talking with St. Vrain at the moment and after a look at the injury, begged those about to amputate his leg. Having no experience his companions refused. He then asked the camp cook to bring him a butcher knife and amputated it himself with minor assistance by the noted Milton Sublette.

Smith was then carried on a stretcher to his winter quarters on the Green River. While the wound was healing he discovered some bones protruding. Sublette pulled them out with a pair of bullet molds. Indian remedies procured [sic] by his squaws healed the stump and in the following Spring of 1828 he made a rough wooden leg. Thereafter he was called Pegleg by the whites and We-he-to-ca by all Indians.

A wooden socket was fitted into the stirrup of his saddle and with this he could ride as skillfully as before. In the lean, last years of his life he could be seen hopping along under an old beaver hat in San Francisco to and from Biggs and Kibbe's corner to Martin Horton's. Something in his appearance stamped him as a remarkable man.

Major Horace Bell, noted western ranger, lawyer, author and editor of early Los Angeles, relates that he saw Pegleg near a Mother Lode town, lying drunk on the roadside, straddled by his half-breed son who was pounding him in an effort to arouse him from his stupor.

Smith had little success as a prospector, but saw in man's lust for gold, ways to get it easier than the pick and shovel method.

In the pueblo days of Los Angeles, Smith was a frequent visitor at the Bella Union, a leading hotel. Always surrounded by a spellbound group, he lived largely. When his money ran out he always had a piece of high-grade gold quartz to lure investment in his phantom mine.

And so we have the Lost Pegleg, located anywhere from Shoshone to Tucson. Nevertheless, no adequate story of the movement of civilization westward can ignore South Pass and Pegleg Smith.

Later, when Pegleg Smith was chided about the high price he demanded of an emigrant for a horse, he remarked, "Well the horses cost me plenty. I lost half of them getting out of the country and three of my best squaws . . ."

A Book for Desert Lovers
Loafing Along Death Valley Trails
By WILLIAM CARUTHERS

You will like the colorful characters, tall tales, ghost towns, and boom towns of a hectic era in man's hunt for desert gold, when honkies were social centers and the great and the humble nudged elbows, lived, laughed and lied one day for a time as they made, missed or lost fortunes overnight.

Says Old Timer: "By far the best book ever written about Death Valley. It's like watching a pageant from a ringside seat because it was written by one who knew his desert and the people he writes about."