*** Official ***
Mojave River Valley Museum
BOOK STORE
Journal of Jedediah Smith: Second Expedition to California
The Inconstant River
About 8 miles up the river I found 2 horses and soon after 2 indian Lodges. I determined at once to secure the horses. And as the indians did not discover me until I had got close to them they had no chance to run off. I found them to be Pauch. With some cloth, knives, Beads &c., which we had brought along, I purchased their horses, some cane grass candy and some demi jons for carrying water.
I then proceeded on, nothing material occuring until I got near the head of Inconstant River there I fell in with a few lodges of the Wan-uma's indians. They had two horses which I purchased, and in continuing my journey, instead of traveling south East around the bend of the stream I struck directly across the Plain Nearly SSW to the Gape of the Mountain.
So soon as I had passed through the Mountain and near the place where I encamped the first night after leaving St. Bernardino on my first journey, I saw numbers of cattle. I immediately determined to kill some cattle and dry the meat to support us in our journey through the Barren country Between Bernardino and the Appelaminy. I therefore had three cows shot and the meat cut and dried.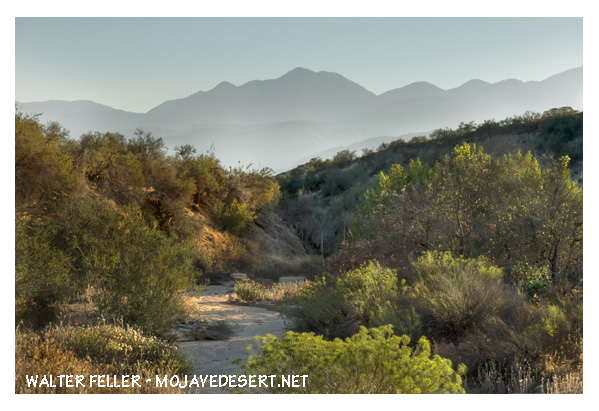 < Previous - Next >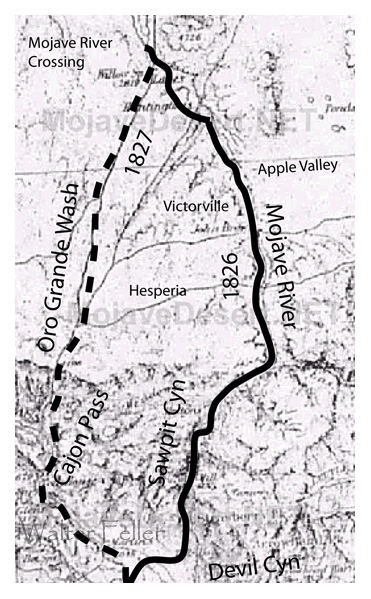 In 1827, Smith and his men were still on the run. Smith traveled directly across the sloping plain from the river toward the Cajon Pass, and descended into San Bernardino through there.