Journal of Jedediah Smith: Second Expedition to California
I Intended to Cross the Colorado
But to return from this anticipation, I was yet on the sand bar in sight of My dead companions and not far off were some hundreds of indians who might in all probability close in upon us and with an Arrow or Club terminate all my measures for futurity. Such articles as would sink I threw in to the river and spread the rest out on the sand bar. I told the men what kind of Country we had to pass through and gave them permission to take such things as they chose from the bar.
After making their selection, the rest was scattered over the ground, knowing that whilst the indians were quarreling about the division of the spoils we would be gaining time for our escape. We then moved on in the almost hopeless endeavor to travel over the desert Plain, where there was not the least probability of finding game for our subsistence. Our provision was all lost in the affray, with the exception of about 15 lbs of dried Meat.
We had not gone more than 1/2 Mile before the indians closed around us, apparently watching the proper moment to fall on us. I thought it most prudent to go in to the bank of the river while we had it in our power, and if the indians allowed us time, select the spot on which we might sell our lives at the dearest rate. We were not molested and on arriving on the bank of the river we took our position in a cluster of small Cotton Wood trees, which were generally 2 or 3 inches in diameter and standing verry close.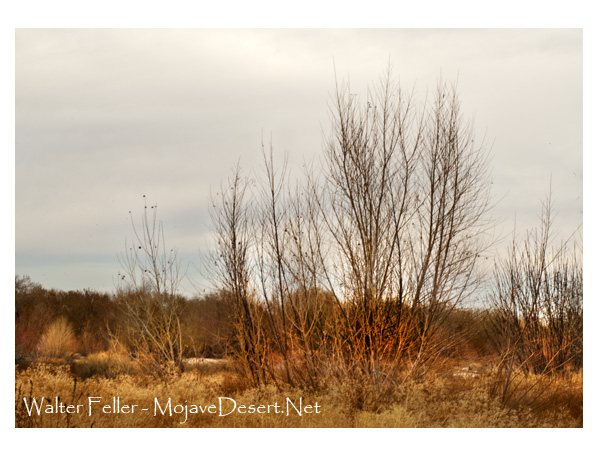 Small cottonwood trees about 2-3 inches in diameter


With our knives we lopped down the small trees in such a manner as to clear a place in which to stand, while the fallen poles formed a slight breast work. We then fastened our Butcher knives with cords to the end of light poles so as to form a tolerable lance, and thus poorly prepared we waited the approach of our unmerciful enemies.

On one side the river prevented them from approaching us, but in every other direction the indians were closing in upon us, and the time seemed fast approaching in which we were to come to that contest which must, in spite of courage, conduct and all that man could do, terminate in our destruction.

It was a fearful time. Eighth men with but 5 guns were awaiting behind a defence made of brush the charge of four or five hundred indians whose hands were yet stained with the blood of their companions.

Some of the men asked me if I thought we would be able to defend ourselves. I told them I thought we would. But that was not my opinion. I directed that not more than three guns should be fired at a time and those only when the Shot would be certain of killing. Gradually the enemy was drawing near, but kept themselves covered from our fire.

< Previous - Next >