Bighorn Mine
Bighorn Mine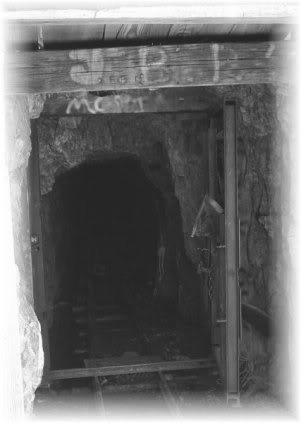 Ol' Jed Clampett might have found oil on his property in Tennessee when he missed the squirrel he was fixing on killing for supper, but gold was found in our mountains by Tom Vincent, who ne'er missed a shot. Credited for having killed a group of five deer with six shots...and three attacking grizzlies in one encounter, his keen eyes picked up on gold up thar in them hills...in a place later called Big Horn Mine.

Charles "Tom" Vincent (whose real identify is a whole story in itself) was reported to have discovered the Big Horn Mine around 1895 when hunting for Big Horn Sheep. The area, which included East Fork and other canyons, had been active with gold mining operations for decades. Placer operations started in the district as early as 1838. Prior to his find of gold on Baden Powell, Vincent had tried his luck looking for gold in the East Fork of the San Gabriel's. With two friends, possibly Civil War buddy Charles Locher (Lockwood) and prospector N.D. Shippy, Tom Vincent dug Tunnel #1 deep into the mountain and found more gold. Unfortunately, they could not afford to get it out and crush it. They worked this claim until approximately 1898. Tom Vincent and his partners would later sell the mine, but continue to work for its new owner for a short period. Vincent kept two other nearby claims called Blue Cat Mile and Little Nell Mine. Vincent gave the title of these two mines to Levi and Dorothy Noble of Valyermo, Ca..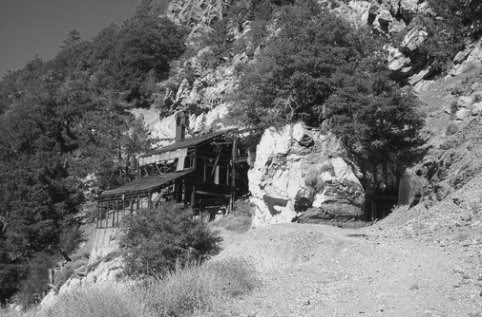 Quiet now, the Big Horn Mine once had some rip-roarin' times

Who actually bought the Big Horn Mine from Vincent is still in debate. Three sources of information kept in the archives of Wrightwood Historical Museum gives three slightly different stories that made it a little fuzzy at first.

The Mountaineer Progress exclusive story that was written by Dennis Nadaline over thirteen years ago was supported by a "confidential report" provided by Siskon Corporation (an owner of the Big Horn Mine) in 1979. The Siskon Corporation report stated that Tom Vincent sold Big Horn Mine in 1902 to the Lowell and California Mining Company. It was this company who cut out a rough wagon road that ran from Valyermo, up Big Rock Creek, across Vincent Gap, and around the slopes of Baden-Powell to the mine. This service road was completed in 1903. The mine operated from 1903 till 1908. During this time, fifty men were employed.

Author Bobbi Holmes, of the Mountain/Hi-desert Guide, wrote of a different account in the August 1987 issue of that paper. "In 1898 there was a great flurry over the Big Horn. During that time period an article in the Los Angeles Times stated; "F. V. Layton…is now manager of the Big Horn Mining Company of this city. It is capitalized for $2,000,000 and owned by Senator S.M.White, Judge F.M. Ross, L.W. Blinn, J.A. Graves and a few others, all of Los Angeles…".

The Los Angeles Times reported some amazing facts of the early operations of the mine that indicated that perhaps this Los Angeles group first bought the mine from ol' man Vincent. By 1898 the mine had developed to a depth of 300 feet and had been crosscut in several locations for a distance of 1200 feet in length! This Los Angeles company subsequently dug Tunnels #2, #3, and #4 into Big Horn Mine. Revealed in this crisscross of tunnels was a wall of gold ore over fifty feet in width that contained two million tons valued at over 8 million dollars! Was it a brag put forth by an overzealous reporter? Probably. It turns out that during that time the mine only brought in the sum of $100,000 worth in gold. Even so, the progress that was made at Big Horn Mine over the years made it an important venture for future owners, such as a man named Fenner, who bought it in 1901.

On July 31, 2006 the Wrightwood Historical Society received a letter from Norman A. Lamb, President of California-Engles Mining Company based in Greenville, California. He reported the following: Colonel F.C. Fenner bought Big Horn Mine in 1901. Sixteen years later, after his death in 1917, Fenner's wife, Cora, maintained the property.

Throughout the last half of 1933, the Administration's policy of reflation raised the price of gold well above the par of $20.67 per ounce. By early September, the dollar had depreciated 35 percent against the French franc, and by mid-September the dollar-pound rate had spiraled up to $4.80. On October 22, with the price of gold at $29 an ounce, Roosevelt, hoping that the program would raise commodity prices, authorized the Reconstruction Finance Corporation to purchase gold newly mined in the United States and, if necessary, to buy gold in the world market. On October 25, the RFC set its price for domestic gold purchases at $31.46, which was 27 cents above the world price. After the RFC began purchasing gold in the world market, the price of gold rose almost daily--to $34.01 on December 1--and the pound appreciated to $5.18. From April to December 1933, the Federal Reserve increased its holdings of government securities from $1.84 billion to $2.43 billion. (Federal Reserve Bulletin, June, 1989 by Leland Crabbe)

The Roosevelt Administration's move spurred Cora Fenner into action. It motivated the incorporation of Fenner Mines, Inc..

Colonel F.C. Fenner bought the Big Horn Mine in July of 1901 and attached his newly acquired mine to his Lowell and California Mining Company, which was an Arizona corporation. Tunnel work began anew in 1902 as the lode was cut by tunnel #5, and a 2 stamp mill operated for a year and a half. 1903 brought the creation of tunnel # 6 and a 10 stamp mill began producing in the summer of 1904. The Big Horn mind was hopping and by 1907, when tunnels #7, #8, #9 and #10 were built. Between July of 1904 and October of 1906, 15,564 tons of ore was mined and treated by the 10 stamp mill. At $2.25 a ton, it brought in over $39, 720.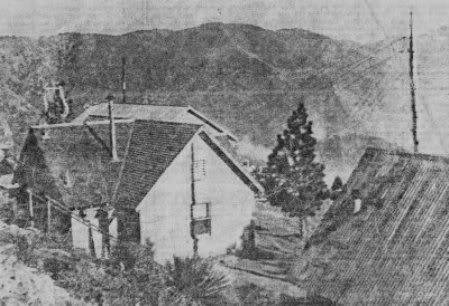 (photo credit: WHS files, pg 10, Mountain/Hi-desert Guide, August 1987)

On the southeastern side of Baden, Powell the Lowell and California Mining Company built a small community where the miners stayed. Included with the outbuilding was a store and Telephone poles for a small phone service. Supplies were brought up through the Valyermo and Big Rick Creek area and up the rough road to the mine. The road through present day Big Rock Creek still exists. It stretches pass Fenner Camp, whose namesake was the owner of Big Horn Mine, Colonel F. C. Fenner. Temporary housing for mine workers were also set up near present day California Dept Of Forestry And Fire Protection Fenner Canyon-Conservation Camp. By 1907, the Big Horn Mine property was in litigation and it remained idle until 1914.

In the later half of 1914 Mudd and Wiseman conducted exploration work for the owners. During that time, and into 1915, a new tunnel was dug through the rough Baden Powell mountain. It is known today as the Fenner Tunnel. Unfortunately, the new tunnel route proved futile and was relinquished the following year. Colonel Fenner died in 1917, and even though his wife Cora kept the mine in order, operations at Big Horn Mine remained idle until 1934. In that year, Mrs. Fenner granted a lease to R. Huffman-The Big Horn Mining Company.

The Big Horn Mining Company was Los Angeles based. By 1934 Big Horn Mine resembled nothing of what Tom Vincent and his partners started thirty-six years prior. It consisted now of fifteen claims and two patented mill sites. Between high grade metamorphic rock and medium-grade metamorphic rocks, Huffman's company found a 25 foot quartz vein. Found between 3 tunnels at different elevations inside the mountain (the intermediate tunnel was 600 feet in length and it had cut the vein 400 feet below the outcrop. The lowered crosscut tunnel was 1450 feet in length), the find promised an average market value of $4 dollars a ton. At least twenty five employees worked at the mine as a diesel plant and a compressor was installed, as was a 50 ton flotation plant. The temporary employer settlement on the southeastern portion of Baden Powell was improved to a permanent one and a power line was installed to the mining property. Upgrades were also made on the property's outbuildings and the old mill building and the road leading to the property was improved. The company was ready to tackle the reinvigorated Big Horn Mine operation. But everything went sour before long. The Huffman Company relinquished the property in 1936 when they were unable to get into a continuous production routine.

In 1937 the property was leased with the option to buy by the American Metal Company Limited of New York. This company conducted a massive examination of Big Horn Mine that included geological mapping, tunnel surveying, obtaining channel samples and drilling eight exploratory tunnels. This company's role in Big Horn Mine production was short lived. The mine opened only briefly and was closed.

In 1938, Big Horn Mine was sold to Security Industrial Corp. (SCI), which was owned by H. B. Chessher. A Nevada based company, SIC transferred the Big Horn Mine to an associated company named Siskon Corporation in November of 1966. Activity by this company was general maintenance and minor exploration and sampling in 1980 and 1981. There was still gold in them hills, it just took too much time, money and effort to get it out to make it worthwhile.

In April of 1981 Siskon Company and all its assets were sold to Hanna Mining Company-also known as M.A. Hanna Company. This company was home based in Cleveland, Ohio. Usually a company that mined ore in the Midwest, they expanded their operations to include silver and gold mining in the southwest.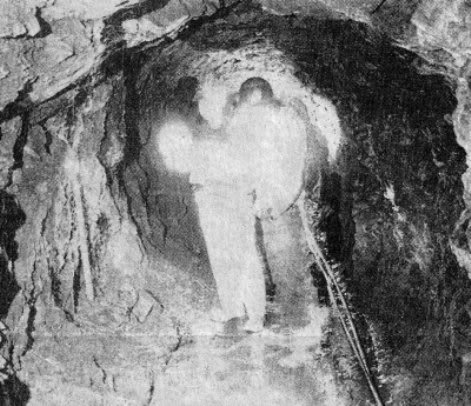 Working inside Big Horn Mine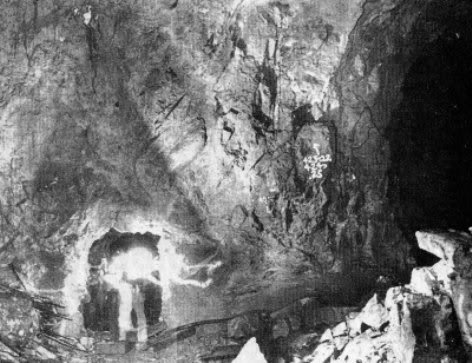 Working inside Big Horn Mine

(From "The Big Horn Has a Rich History," WW Mountaineer/Progress -written & photographs by Dennis Nadaline) In 1984, Inspiration Mines, under the supervision of project manager Sherman Quayle, conducted the first phase of a two-phase operation to extend the mine's existing tunnels and determine the possibility of re-opening the mine to full operation. With dynamite they enlarged the mine, while helicopter-portable drilling rigs operated above... drilling vertical shafts.

It was hoped that the project would prove to be an endeavor that would cause an economic boom in the area and jobs for many local people, which the company planned to hire. Sadly, bringing up the gold from the Big Horn Mine was too daunting of a task to be feasible. By 1985, Hanna Mining Company realized that at the current price of gold during that time did not make it worthwhile to continue mining the Big Horn Mine.

The Wilderness Land Trust bought the historic Big Horn Mine parcel in December of 2006 from Cherokee Nevada Corp., an independent mining company. The former owners chose to sell to the Trust rather than reopen the mine or pursue a sale to another mining company. To complicate matters, for years the Big Horn property was bounced back and forth through stages of collateral actions to invest in properties elsewhere.

The Wilderness Land Trust negotiated with the private mining company to buy the 277-acre property, and on September 21, 2007 the Trust secured long-term financing for the entire parcel. The rising price of gold made reopening the mine attractive for the Wilderness Land Trust. But, once again, history was going to repeat itself. Early tests had revealed that much gold lies deep within the mine's shafts. However, it is buried deep within hard rock. Even with modern mining methods, it would be a chore to retrieve. Because of this, the Trust had optioned to transfer Big Horn Mine to the United States Forest Service.

The mine, named after the Nelson's Big Horn Sheep that still roam across the San Gabriel Mountains, is located near Mt. Baden-Powell and Vincent Gap along Highway 2 in northern Los Angeles County. The mine is situated on the east flank of Baden-Powell. The Big Horn Mine has become a popular hiking destination and its preservation is vital to the surrounding wilderness. All we have to do is police the knot heads that continue to graffiti the mine and the surrounding outbuildings.

According to the Siskon Corporation confidential report of 1979, Tom Vincent's Big Horn Mine sure had its heyday. The Big Horn Mine was the largest producer in the mining district. According to production records a total of 5,364 ounces of gold and 2,879 ounces of silver were produced from the entire district. Of this amount, the Big Horn Mine produced 3,701 ounces of gold and 2,430 ounces of silver were produced. It also produced 1,357 pounds of copper.

The Big Horn Mine now sits empty and quiet on the slopes of Baden-Powell, way above 7,000 feet above sea level. Gold is still there; up thar in them hills…it's just beyond man's fingertips.

Submitted by Terry Graham

Excerpt from "History of Big Pines", which is by the same author.

Resources:

*California-Engels Mining Co, 117 Crescent St, Greenville, Ca 95947, written communication by Norman A. Lamb, President-July 30, 2006

*Great Pacific Resources Inc., Vancouver B.C, Canada: Hardwood & Grayson Financial Report-1983

*State of Arizona Dept. of Mines and Mineral Resources; resource investigation and collection of information of Fenner Mines Inc.

*"The Big Horn Has a Rich History," photo and article written by Dennis Nadaline; Wrightwood Mountaineer Progress October 3, 1984

*"The Big Horn Mine," photo and article written by Bobbi Holmes, Mountain/Hi-desert Guide August 1987